BrightHaven is a holistic animal sanctuary, hospice, rescue and education center.
Join the BrightHaven Family — Sign Up for Our Newsletter
By becoming a part of our email network of valued supporters, you will receive emails regarding animals needing rescue, updates on those we have saved, and information on educational workshops and other resources.
Sanctuary
Our Focus: Senior and Special Needs Animals
At the BrightHaven sanctuary a regimen of raw meat-based diet, classical veterinary homeopathy, animal Reiki, and immune/organ support combined with unconditional love has paved the way for the miracles of healing for which we are known.
We call this regimen our Menu for Healing, which we developed by following the wisdom of the animals.
The BrightHaven sanctuary has saved over 1,000 of these precious beings by giving them the gift of a loving and dignified home for life—however long or short that life may be. The BrightHaven sanctuary is the place where the unwanted find acceptance, love and family.
BrightHaven has also saved thousands more animals through our various programs.
---
Hospice Care
Since 1990, BrightHaven has evolved to become a unique hospice center for over 600 senior, chronically ill and disabled animals, a population which has an overwhelming need to find love and care in our society and most especially during the last phase of their lives. BrightHaven hospice care is modeled on human hospice care where we pledge to provide a painless, loving and peaceful journey followed by a painless, loving, peaceful & natural death.
---
Rescue
For Shelter Animals Most in Need – BrightHaven Shelter Rescue (BSR)
In 2010 BrightHaven Shelter Rescue (BSR) was formed with the goal of saving shelter animals most at risk for euthanasia due to their age or illness. Today, BSR has been very successful in finding both foster and forever homes for hundreds of abandoned animals in our local communities.
The BrightHaven Halfway House
In 2015 BrightHaven has opened its doors to offer a place to rest and recuperate to some of the rescued shelter animals as they await adoption, enabling the rescue of more needy animals.
---
Holistic Education
For All Animal Lovers!
When we share what we've learned with the community through education outreach, we truly believe we are a small part of helping our planet become a better place in which we can all live peaceably together.
In the The BrightHaven Guide to Animal Hospice online self-paced series, BrightHaven Co-Founder's Gail and Richard Pope are thrilled to share what they've learned since 1990 by listening to their wise animal teachers. It's all about living well through the last breath!
Gail has an international consultation practice and is contacted by many vets and animal caregivers regarding BrightHaven's natural methods and protocols for animal care and hospice. Book a consultation with her by sending an email to consultations@brighthaven.org.
Gail has written five books on holistic healthcare and animal hospice that are available on www.amazon.com.
---
Why BrightHaven Matters
---
General Information about BrightHaven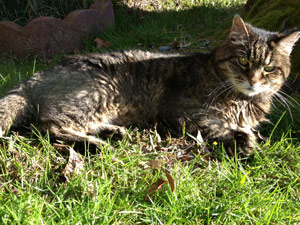 BrightHaven was founded in 1990 by Richard and Gail Pope, who since then have dedicated their lives to BrightHaven and to giving the gift of tomorrow to animals in need, particularly those that are senior, disabled and chronically ill.
In July 2013, BrightHaven Co-Founders Gail and Richard Pope received the prestigious Jefferson Award for Public Service, in acknowledgement of their devoted service to this extremely vulnerable population of beings.
With continued funding, the BrightHaven legacy will remain and continue on into the future for the nation's next generation of animals and their human companions. 
BrightHaven is located in Santa Rosa in beautiful Northern California,  north of San Francisco.
Contact us for more information:
Email: info@brighthaven.org
Phone: 707-578-4800
BrightHaven's Structure Diagram