Lifetime Residents
Bailey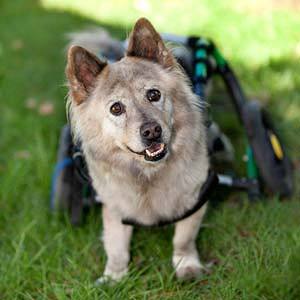 Meet Bailey! Bailey is our special world traveler, who came to us all the way from the streets of Taiwan. He was rescued in 2009 by a lovely couple who took him in and contacted BrightHaven. Bailey has a broken back, most likely from being hit by a car while living on the streets. He loves to feel the wind in his fur as he zooms fearlessly around in his cart. Watch Bailey go!
---
Bellestar
You can tell just by looking at this picture that Bellestar, an American Shetland Pony, is delightfully mischievous. She was born approx. in 1994 and has lived at BrightHaven since 2000, after being rescued from a situation of mistreatment and abuse. You would never know what she had endured as BelleStar's true self now shines. She is very smart, curious and loves people.
---
Buttercup & Benjamin-Brownie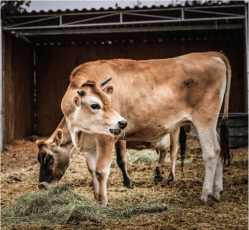 Saved from the brink of death by Ted Robb (CEO of New Barn; Chairman & CEO of InHouse Creative), Buttercup and her adorable son Benjamin-Brownie are full-time residents at BrightHaven. As you can see,  Benjamin-Brownie has grown quite a bit since he arrived as a young calf! This charming pair with their gentle ways became fast favorites of BrightHaven visitors.
---
Chicken Girls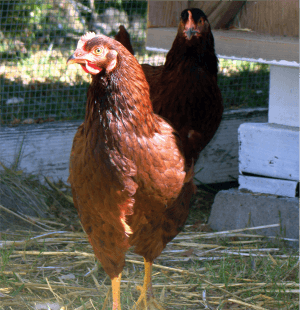 These beauties represent our lovely chicken girls, of which there are too many to mention by name!
---
Ellie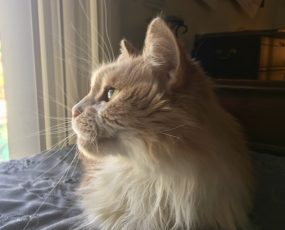 Ellie (formerly named Goldie) came to us in Summer 2016. Gail and Richard's young granddaughter came up with the name Ellie, and it fits her sweet and gentle nature perfectly! Ellie was rescued from the New Hope Animal Shelter in Los Angeles. She was slated to be euthanized as adoption had proved impossible due to the obvious tumor growing on and around her right eye. Ellie quickly settled into life at BrightHaven and thoroughly enjoys her days and her raw diet. Renowned classical veterinary homeopath Jeff Levy is supervising Ellie's healthcare program; she is responding well and feeling great.
---
Gem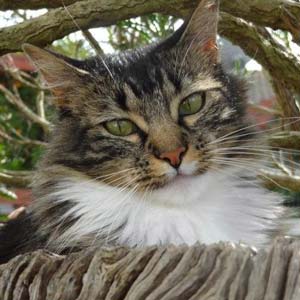 Meet Gem! Gem joined our family in August 2011. She came to us after spending a very long time in cages. We learned that Gem had not only lost her litter before they were born but lost her tail as well. This girl is a survivor! Gem loves the sanctuary and can be found lounging in the garden. This beauty has very soft fur and loves a pet or two.
---
Gracie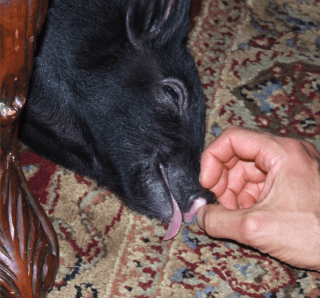 Gracie was named for the miraculous way she found her way to BrightHaven in February 2015 after being orphaned by the side of the road at about 5 days old! We quickly learned how to be "pig parents" as orphaned piglets only have a 50-50 chance of survival in their early weeks–they must be kept in 90 degree heat for the first month, 24-7. Gracie thrived and is now a full grown pig. She loves sleeping in her dog beds and eating veggies. Gracie is also very smart!
---
Johnny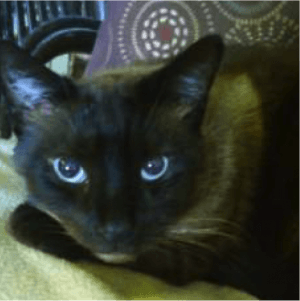 Johnny came to us at age 13 years in 2016. He adores attention and playing with the other cats.  Johnny knows how to enjoy life! He loves sitting by a nice warm fire in the winter and the being out in the garden in nice weather. He is FIV positive.
---
Layla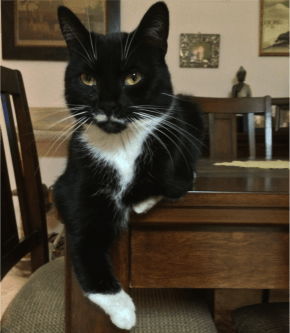 Meet Layla! She arrived at the sanctuary in September of 2013 with her babies George and Pattie. Layla has a very rare and unique disease called bilateral arthrogryposis multiplex congenital (AMC), which affected her front legs. She spent her first few months here caring for George and Patti and exploring the sanctuary. She quickly found she enjoyed her time away from the babies and now loves to sleep on Gail's bed. Layla can run very fast and climb up the cat trees with great confidence and grace.
George and Pattie were adopted together by Richard and Gail's daughter, Kirstie and are enjoying a life of love, respect and fun!
---
Louis & Ted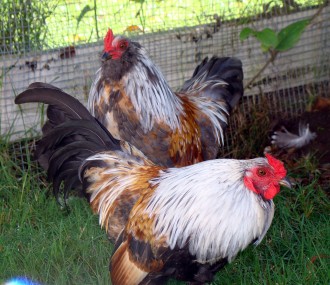 Meet Louis and Ted who are twins! Louis and Ted arrived at BrightHaven in July of 2009. Louis is the one with the soft grey ruff around his neck. These small roosters have remarkably strong personalities and, although tiny they are both tough and quite ferocious at times!
---
Odie & the Geese Gals, Hilda & Louise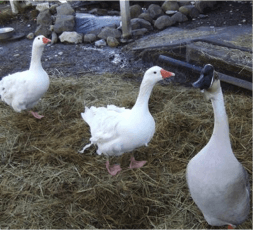 In September 2009, Odie (far right) was left in the drop box at the Martinez Animal Shelter, with a note asking them to please find someone to care for her. Odie arrived at the sanctuary shortly after. Odie is the largest bird in the sanctuary and was mistaken for a girl when he first arrived. He has a big, black beak and is a stunningly beautiful, brown Chinese goose. Odie loves to make noise!
Odie has even more to honk about these days with not one but two girlfriends after Hilda and Louise arrived in January 2016. They think he's pretty special too!
---
Sasha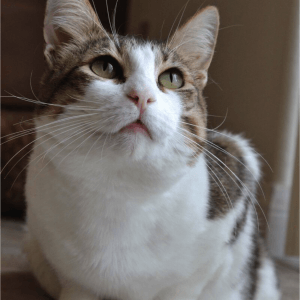 Sasha arrived at BrightHaven after being rescued in Los Angeles. She had been  stoned by a gang of kids while protecting her kittens, which left her with a broken back. Born around 2007,  Sasha joins with all the other BrightHaven paraplegic cats and dogs to teach us silly humans not to offer her sympathy but to see and understand that although she may have a broken back, her spirit is strong and vibrant, and life is good!  Sasha can scoot easily and quickly and also climb to a couch if she so desires… in fact there really is nothing she could not really do if she set her mind to it we are sure. Mostly Sasha is to be found in the gardens, sunning herself and watching the world go by…
---
Sophie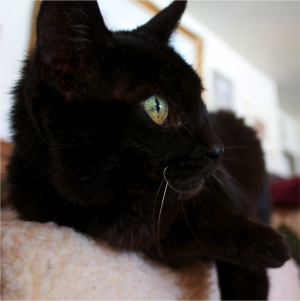 Having come to BrightHaven in 1995 at less than two years old, Sophie, our longest inhabitant is now headed for her middle twenties! Sophie fell victim to the nasty disease stomatitis when young but after an amazing response to homeopathy plus the loss of most of her teeth, she remains vibrant, feisty, dominant, by and large sleek. Somewhat shy of humans, Sophie spends her days more often than not in our office, preferably curled on her adored Gail's computer. Sophie loves the adjacent garden and is the well-respected queen of her domain for she has no qualms about her interactions with cats and is the unchallenged matriarch.  It's funny though to watch how a little stroking with a gentle human hand can render this tough cookie completely senseless and drooling in ecstasy!
---
Sweet Pea

Sweet Pea is the happiest dog in the world! Despite her challenging past in a puppy mill, she makes every day brighter. We think that Sweet Pea was around 8 years old when she arrived here in 2015. She loves to go on walks and take in the sights and smells, whether she's trotting along or being pushed in a stroller. It's all good!
---
Long-term Rescues
These lovelies will reside in the sanctuary until we find the perfect home for each of them!
Annie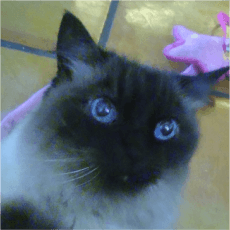 Siamese beauty Annie came to us in 2016 at the age of 13.  She is loving and sweet. Annie loves her cat tree by the window. Sadly, Annie was declawed so is timid around other cats.
Annie does have a trick! She will sit on her hind legs and put her front paws around your hands.
---
Max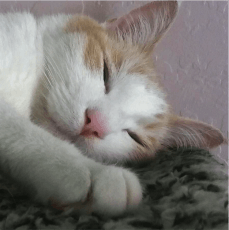 This handsome boy was about a year old when he arrived in 2016. Max will play with the other cats. He adores attention. He also loves napping in the cat trees throughout the house.
---
Peanut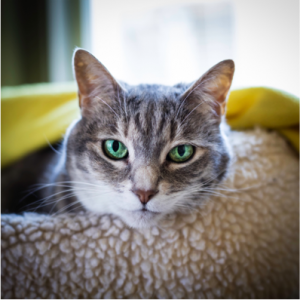 Peanut was 15 years old when she and Max, who are bonded pair, came to us when their owner passed in 2015. She has beautiful green eyes. Peanut loves to snuggle and receive attention. She prefers not to play with the other cats but will hang out with them. Peanut much prefers people to anything else. Speaking of preferences, she loves a bed that looks out the window.
---
Smokey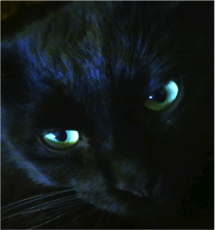 This super handsome guy arrived in 2016 at the age of 3. He has gorgeous eyes, as you can see. Smokey likes to play and sometimes irk the other cats. He runs all over trying to find someone to bother! Smokey loves to snuggle on your lap and be stroked. He is a bit shy with people he doesn't know. He is very good at finding new places to sleep!
---
Sophie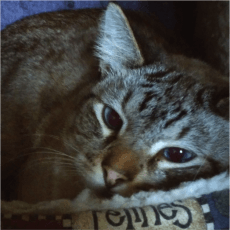 This female Siamese beauty with stunning blue eyes arrived her in 2016 at the age of 6. She doesn't like to be held but does love a stroke or two. Sophie loves playing with the other cats. She has her favorite cat tree that she sleeps in every night.
Sophie is extremely camera shy, so we feel very lucky that she let us take this one!
---
Thomas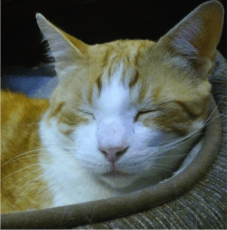 Arriving in 2016 at the age of 7, Thomas is extremely loving and playful. He is a friend to everyone (including dogs), especially anyone who isn't feeling well.
Thomas loves to run throughout the house and plays with everyone. His favorite place is his bed by the fireplace with a nice toasty fire going. Thomas loves to be in the garden romping with the other cats. He is FIV positive.
---