When we have an elderly or ill furry family member, or our beloved animal has received a terminal diagnosis, pain, suffering, will to live and quality of life for living and dying become important considerations.
A Helpful Definition of Suffering
Pain and suffering are often lumped together, as if they're synonymous. However, that may not be the case, as this quote clearly shows:
Pain is the physical experience. It's an ache in your muscles, the strain in your joints, the fever and chills, the throbbing in your temples, the congestion in your sinuses, the stabbing in your upper back, the shooting sharpness down your leg.

Suffering is your emotional experience. Suffering may or may not be connected to physical pain. You can suffer emotionally even on a sunny day when nothing apparently bad is happening to you on the outside. Suffering is the negative story you are telling yourself about what is happening now, what has happened in the past or what could potentially happen in the future. – Catherine Carrigan, Medical intuitive healer, author
Suffering, as well as pain, is a natural part of life for all beings here on earth at one time or another. I don't think any of us can escape this universal experience.
However, it's important to consider that how we think about a situation can cause us humans to unconsciously create and perpetuate needless suffering due to resisting what is actually unfolding. "This shouldn't be happening!" or "that should never have happened!" are two common examples of resistance.
Addressing Unnecessary Suffering
How can we reduce needless suffering?
I have found that presence and awareness are key. To re-center myself when my thoughts are running amok, I usually begin by taking a few deep breaths, which helps me to return to the present moment. There I can consciously assess what's actually occurring. Also, I am in a better position to observe my thoughts and feelings (rather than being immersed in them), which can help me to approach a situation with as much equanimity as possible. I now have the power to intentionally choose how I wish to respond.
What Animals Teach Us About Suffering
Animals can teach us a lot about minimizing mental suffering. They live in the present moment, which naturally equips them to be more accepting of what's unfolding. They respond organically as they're not caught up in their thoughts and preconceived ideas about how things should or shouldn't be happening.
Instant equanimity may not always be possible, particularly when our loved one is sick or in pain, be it physical or mental. However, it's exactly these times when a calm and deliberate approach may be most helpful. Plus, I've learned conscious choice often minimizes future regrets…
Presence, awareness and equanimity – and practicing them in a variety of situations – can make a big difference in decreasing unnecessary suffering and exponentially increasing one's ability to live well – and fully – through the last breath!
Accept – then act. Whatever the present moment contains, accept it as if you had chosen it. Always work with it, not against it. Make it your friend and ally, not your enemy. This will miraculously transform your whole life.–Eckhart Tolle
BrightHaven Resources to Help Your Animal Live Well Each and Every Day!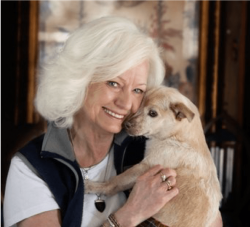 UPCOMING NEW ONLINE COURSE! BrightHaven Holistic Animal Hospice: Navigating a Terminal Diagnosis. ***COURSE NOW AVAILABLE*** Visit https://www.brighthaven.org/brighthaven-guide-animal-hospice-online-learning-series/.

Walking with My Dog Through (End of) Life – an intimate look at a profound life passage, from terminal diagnosis through hospice care and natural death. (Author: Carol Howe Hulse, BrightHaven Education Program Manager)
---
Join the BrightHaven Family!
By becoming a part of our network of valued supporters, you will stay abreast of additions to our Caregiver Resources and Education (including animal hospice and holistic healthcare) program. You will also receive information about animals needing rescue and updates on those we have saved through our Rescue program that specializes in medical rehabilitation, which makes us unique.
Your user information will never be shared with a third party without permission, or sold.
We truly appreciate your support!