BrightHaven is unique for the work we do and the results we get. Our holistic approach to healing is renowned as our animals seem to live longer and look healthier than most. For example, Frazier the cat survived cancer and lived to age 34 and Ollie the paralyzed Dachshund lived to age 24. It's all about living well through the last breath!
PLEASE NOTE: We at BrightHaven are not veterinarians and are therefore not qualified to give you professional veterinary advice. We have, however, been helping our animals holistically for many years, aided by numerous talented professional practitioners.
Always consult your family veterinarian in matters concerning the health of your animals. Any sign of pain in your animal should be immediately addressed with your veterinarian.
Since 1990, our approach to animal health and wellbeing has gradually shifted from a completely conventional approach to a primarily holistic approach, although we still use conventional approaches for acute situations if needed. We've followed the wisdom of the animals as we've made this fascinating journey!
In BrightHaven's early years, we relied very heavily on conventional wisdom and on using drugs, vaccines and medical procedures; we found the results were fast and often extremely effective. We also noticed some concerning side effects including low energy, dull fur and eyes, dirty ears and thirst and appetite changes, as well as some emotional issues. We also saw a high incidence of tumors, asthma, skin and ear problems and frequent upper respiratory illness.
As we moved to a more holistic, or natural, methodology that included a raw diet and homeopathy, quite often the above-mentioned conditions resolved themselves.
Bottom line: Holistic medicine is all about restoring balance of body, mind and spirit, regardless of life stage and current health situation.
Additional key points:
One of our most important recommendations: Educate yourself – knowledge reduces fear and increases conscious decision making, and in turn may minimize regrets.
BrightHaven Menu for Healing – This menu, which is the foundation of our work, focuses on the best quality of life at all stages. The goal is to achieve optimal balance of body, mind and spirit.
We developed our healing approach by following the wisdom of the animals. They've clearly shown us that positive changes to diet and other aspects of healthcare can significantly improve one's health and wellbeing regardless of one's current situation.
A great place to begin is diet! Feeding an appropriate diet is one of the best ways to maximize your animal's health and wellbeing, as food provides the body with its primary energy and nutritional source.

Every single feline and canine resident at BrightHaven, regardless of age or physical condition, ate a natural diet. Even the oldest animals typically showed a remarkable improvement that may have included shiny eyes, lustrous fur and increased energy, when switched from a conventional method of feeding.

Drugs and vaccines may have potential side effects – it's important to ask questions and become informed.
Love is an essential and powerful part of the healing process!
Care approach – what best suits your needs?

Holistic medicine treats the entire being: body, mind, emotions and spirit. "Dis–ease" denotes an "out of ease" or unbalanced state. Often, holistic approaches can detect problems at the dis-ease state and correct the imbalance before serious illness sets in.
Conventional (allopathic) medicine focuses on treating and eliminating symptoms. This approach is typically the fastest line of defense in acute situations, such as emergencies and trauma of all sorts.
Integrative medicine includes a partnership between patient and practitioner along with the appropriate use of conventional and alternative methods.
Other helpful information: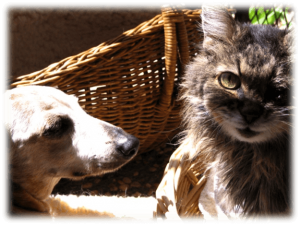 Consultations – Do you have questions about how BrightHaven's holistic healing or animal hospice care approaches can help your animal? Book a consultation with BrightHaven President and Founder Gail Pope by sending an email to consultations@brighthaven.org.
Education – Holistic Healthcare – Through love and kindness we have refined our relationship with animals over the years, and from the animals' teachings an integral structure for holistic care has emerged.
Our Vets – BrightHaven is firmly committed to classical veterinary homeopathy and is delighted to introduce some of America's finest veterinarians with whom we have worked.
Blog post:
Books:
Online learning:

The BrightHaven Guide to Animal Hospice: The Gentle Shift – BrightHaven Founders Gail and Richard Pope paint for you a simple picture of their healing philosophy by demonstrating how they progressively learned about holistic healthcare, embraced new concepts and witnessed healing miracles. For instance, they explain what happened when, with great trepidation, they completely changed their trusted commercial diet to one based on raw meat. Gail and Richard also share how a beautiful black cat profoundly shifted their thinking about natural death.
The BrightHaven Guide to Holistic Animal Hospice: Navigating a Terminal Diagnosis – One of the most difficult things for any animal lover or pet parent to hear is being told by the vet that your animal's illness is terminal. This course, presented by BrightHaven President and Founder Gail Pope and Education Program Manager Carol Hulse, helps you to navigate this path with a deeper sense of peace, confidence and clarity. It includes a variety of tools to help you to plan and implement the best way forward for your unique situation.