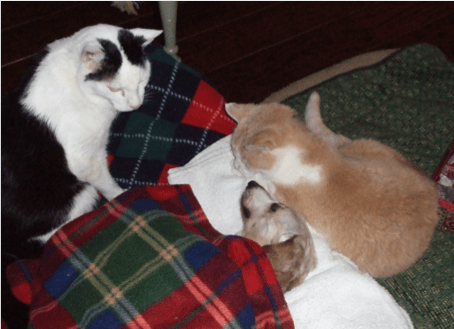 Animal hospice is a team-oriented, interdisciplinary approach providing compassionate quality care and support on a physical, emotional, social, and spiritual level throughout the end-of-life process, tailored to the needs and wishes of the patient and the patient's family. It is based on the principles of human hospice care.
The main difference between hospice care and end-of-life care is that hospice care does not foresee euthanasia in the future but focuses on a peaceful, gentle and natural death. After all, life itself is terminal. Of course, if an animal in hospice care takes a turn for the worse, the decision to euthanize may then be made, whereas in palliative or end-of-life care euthanasia may be the expected outcome from the beginning.
There are differing views of what animal hospice is but basically we're all seeking a "good death" for the patient, and there are different beliefs about what constitutes a good death. Natural dying is part of the BrightHaven Menu for Healing, which is the foundation of our work. However, BrightHaven is not opposed to euthanasia. We simply do everything possible to achieve a natural death and most often succeed. We believe a major key may be in accepting the dying process, seeing it as normal and not as a failure.
Knowledge reduces fear and increases confidence, and conscious decision-making may minimize future regrets. We invite you to explore our caregiver resources (including animal hospice education and holistic healthcare education), online learning and publications to learn more. You may also wish to book a consultation with BrightHaven President and Founder Gail Pope.