The start of a new year is the perfect time to dream big and focus on exciting goals and priorities.
BrightHaven's primary goal for 2016 is to expand our education program. We wish to share with the community what we've learned over the years from our wise and wonderful animal teachers. It's all about living well through the last breath!
We can't achieve our goal without you!
Great Response to Gail's Latest Educational Book!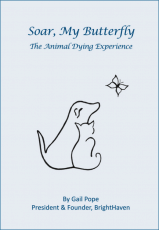 We are so grateful and thrilled by the enthusiastic response to Soar My Butterfly: The Animal Dying Experience, a straightforward guide to the signs and symptoms that you may encounter during the final stages of dying—a process that may begin several months before death finally occurs—and shares what you can do to lovingly support your animal.
Purchase your copy of the one book every animal lover should own!
If you purchase via www.smile.amazon.com and select BrightHaven as your favorite charitable organization, Amazon will donate a percentage of the sale price to BrightHaven!
What is Our Vision for BrightHaven's Education Program?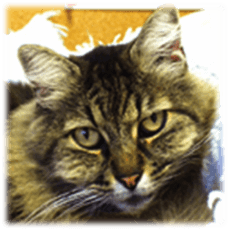 BrightHaven is unique because of the way we work and the results we get.
Our education program is designed to lead people through BrightHaven's menu for healing for the best quality of life for their beloved animals all the way to the most peaceful and loving dying process.
To expand our education program, we plan to create and distribute additional helpful resources to guide people through all parts of their animal's healing journey, including these important topics:

Navigating a terminal diagnosis, including questions to ask your vet
BrightHaven's menu for healing and how it supports well being at all life stages
The animal dying experience
Channels for sharing this information will include:
Booklets written in format similar to Soar, My Butterfly: The Animal Dying Experience—accessible, informative, compassionate
Online learning platform
Public speaking appearances including death cafés, radio shows
Constant Contact email and social media marketing
Seminars
Who Is Our Target Audience?
We've identified two target groups that would greatly benefit from our education materials:
The general public, most likely animal lovers, who wish to learn about:

A holistic approach to well being at all stages of life
Animal hospice from a more holistic perspective
How they can better support their own animals through hospice care

Veterinarians who are interested in supporting and empowering their clients with important information regarding animal hospice and living well through the last breath
How Does Our Education Program Benefit the Community?

We want to help people to help animals to help people!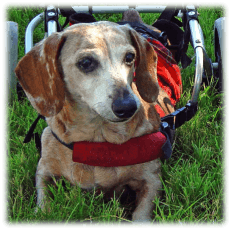 The human/animal bond is very special and healing for all
concerned. In fact, for many people, their animals provide them with a primary and constant source of companionship and emotional support.

Our program will provide the community with additional accessible and actionable information, designed to empower individuals to make more conscious choices regarding the well being of their animals and perhaps even themselves!
We also encourage people to learn more about the circle of life and the dying process, and to accept that death is as natural as birth. We've learned from experience that less fear around death often leads to living fuller, more joyful and meaningful lives.
We need funding to help us to create additional high quality content and to intensify our marketing and community outreach in 2016!
How Can I Get Involved?
If you agree that expanding our education program will greatly benefit animals and their people, we ask you to please:
Donate now! Here are two ways you can contribute: 
— Select One-Time Monthly Donation
— Please put "BrightHaven Education" in the reference field
2) Mail a check payable to BrightHaven & send to:
P. O. Box 1743
Sebastopol, CA 95472-1743
Please put "BrightHaven Education" in the reference field
Help us to get the word out! Share this post with friends and family on social media!
Thank You!!!
 "If you light a lamp for someone else it will also brighten your path." ~Buddha