Help Your Animal Live Well Each Day at Every Life Stage!



"I appreciate your work so much, and I am so grateful that there are such resources after all.  God bless you for this work… I know you already know how many of us need this kind of assistance in making the ending days of our beloved companions as rich as they can be." –Michael B.
Follow Your Heart: Navigating a Terminal Diagnosis
Author: Gail Pope, BrightHaven President & Founder
What is one of the most difficult things for any animal lover and pet parent to hear? It's being told by the vet that your animal's illness is terminal.
Author Gail Pope, President and Founder of BrightHaven Center for Animal Rescue, Hospice and Holistic Education, wrote this informative booklet to hold your hand and help you to navigate this path with a deeper sense of peace, confidence and clarity. Gail drew on her consultations with countless distressed caregivers who have reached out to her after receiving such a diagnosis for their animal.
Amazon Review: A most helpful guide to parting with an animal 
"The amazing depth, clarity and comprehensive detail that Gail Pope brings to her newest publication on "navigating" terminal illness in our animal companions makes this a must read for anyone who deeply loves animals. All questions answered, with a wealth of information on how to face and deal with this most difficult experience in a positive way that helps us humans as well." –Kate F.
---
3 More "Must-Have" Invaluable Books for All Animal Lovers! 
"I LOVE these books! I give them away and recommend them to all my friends that have animals! The absolute best books on the subject!" –Karin L.
Soar, My Butterfly: The Animal Dying Experience
Author: Gail Pope, BrightHaven President & Founder
Gail Pope created this simple and straightforward guide to the signs and symptoms that you may encounter during the final stages of dying – a process that may begin several months before death finally occurs – and shares what you can do to lovingly support your animal.
 Amazon Review: An Invaluable and Groundbreaking Book!

"Groundbreaking and certainly timely!! Hospice is the way to go with most animals' passings. As they manage other aspects of their lives, they manage their transition to spirit with grace, and in most cases, exquisite ease. this invaluable book guides the reader through the nuts and bolts of the process as well as the spiritual aspects of the death experience.
I was fortunate in that I recommended Soar My butterfly to a friend recently, and it enabled her cat to have a loving, peaceful passing surrounded by loved ones, animal and human. She has bought copies to give to her friends!" –Cynthia B.
---
The BrightHaven Guide to Animal Hospice
Author: Gail Pope, BrightHaven President & Founder
Loving and caring for an elderly, disabled or chronically ill animal is a journey that can teach you so much.
Learn to care for your animal companions in their golden years and through the end of life the BrightHaven way!
Amazon Review: A must read for caring pet owners

"Animal hospice is a relatively new and emerging trend, and who better to write the guide than a woman who not only "talks the talk," but "walks the walk," having dedicated the past 25+ years of her life to caring for a variety of animals through their last days. Gail Pope's guide to animal hospice is indispensible for pet-owners who are looking for viable, compassionate alternatives to the conventional veterinary practice of recommending euthanasia when a pet gets "too sick" or "too old." Sometimes euthanasia IS the most loving thing you can do for your pet, but thankfully there are now more options, and Gail shares how to navigate them based on her extensive experience in this area. A must-read for animal lovers!" –G. Roberts
---
Walking With My Dog Through (End of) Life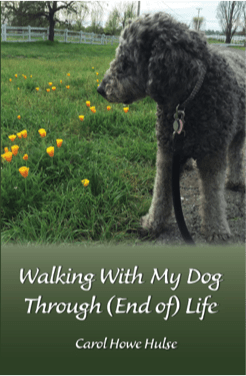 Author: Carol Hulse, BrightHaven Education Program Manager

Pet loss, anticipated or otherwise, is often an extremely challenging time for any animal lover. This intimate look at a profound life experience shares how the last few months of a cherished animal's life can also be a time of many gifts including deepened love and connection, and life-changing lessons. It follows the journey of Carol and her beloved dog Silver from terminal diagnosis through animal hospice and natural death and includes how BrightHaven's animal hospice principles greatly helped them find their way.
Amazon Review: Well written and reassuring

"This book was very well written and reassuring to me. The author expresses all the feelings, worries and hopes one feels as a beloved pet goes thru the dying process. She emphasizes how being present with our love for our animals is the greatest gift we can give them. She also notes how very difficult and nerve-wracking it can be. The author had a wonderfully supportive group of people to help her as she helped her dog Silver, and she lists several available resources for guidance." —Linda M.
---