Before Death
When you are sorrowful Look again in your heart And you shall see that in truth You are weeping for that Which has been your delight… –Kahlil Gibran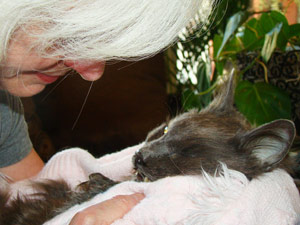 The normal human pattern of grieving after a loved one's death is one we have learned to reverse at BrightHaven, as the animals have taught us their way. In facing the fear of death, we have seen that the single most painful thing for humans, other than the event itself, is the overwhelming pain stemming from the knowledge that we will never see our beloved friend again in this lifetime. Once we have faced this fear, we find ourselves working through the grieving process together with our loved ones before they die. Thus this special time preceding passing can be spent not in fear and pain but rather in love, celebration and memories. This newer and more spiritual approach is one that allows for the knowing that, as the circle of life is completed, a re-joining with spirit will soon occur.
Learning Through Animals
Animals have taught us through their wisdom that the time for grieving and saying our goodbyes is now. This is the time to talk to our animal friend about shared experiences and fond memories. At BrightHaven, we talk about how much we love them and how much we will miss their physical presence. We cry together. We laugh together and we share everything. We accept that death is coming and prepare for the event together. There is nothing more sacred than to care for a beloved friend during his or her final time with us on earth. The bond created during this special time is one never to be forgotten. We share this precious time together in love, knowing that we will always be together in spirit and will one day meet again.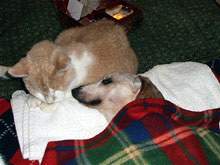 In the course of our education in the final stages of life and the understanding that our grief had passed by the time the event of death occurs, we have spent happy hours with many animals as they have shown us their ways. In the hours, days and sometimes even weeks before death becomes final, we have been witness to many groups of animals gathering together to share love and celebrate the life of one of their own who was dying.
Observing the course of their experience, we realized that grief no longer existed for these animal "nurses" after death had taken place. Two of our many such caregivers were Charlie and Lucy—please do read Charlie's story and Lucy's story to learn about these animal caregivers. Only the honoring of their physical body and the joyful celebration of their lives remain.
When you part from your friend, you grieve not; For that which you love most in him may be clearer in his absence, as the mountain to the climber is clearer from the plain. In the depth of your hopes and desires lies your silent knowledge of the beyond; And like seeds dreaming beneath the snow your heart dreams of spring, Trust the DREAMS, for in them is hidden the gate to eternity. –Kahlil Gibran
Knowledge reduces fear and increases confidence, and conscious decision-making may minimize future regrets. We invite you to explore our caregiver resources (including animal hospice education and holistic healthcare education), online learning and publications to learn more. You may also wish to book a consultation with BrightHaven President and Founder Gail Pope.