BrightHaven: Pioneer & Leader in the Emerging Field of Animal Hospice
Hospice became a way of life at BrightHaven as we have cared for hundreds of senior and special-needs animals since 1990. In doing so, we have learned so much about love and the circle of life from our animal loved ones. We focus on achieving a state of wellness, joy or balance whether for continued life or for transition. At BrightHaven we concentrate on helping the "being" to be the best they can possibly be, regardless of age, illness, or type of being – nonhuman or human animal!
Our hospice care is very much aligned with hospice care for humans where love, comfort, dignity and quality of life are of the highest importance, and the spiritual aspect of the journey is highly honored. We strongly encourage anyone interested in learning about animal hospice to first read more on many available websites on the subject of death and dying including the National Hospice and Palliative Care Organization (NHPCO) and the Hospice Foundation of America (HFA).
BrightHaven provides leadership in the development and application of animal hospice and its philosophy of care. We are dedicated to improving the care and support of animals with a serious or end-of-life illness. We foster respect and awareness for animals as sentient beings and promote an understanding of death as a natural part of life.
For BrightHaven's definition of animal hospice, please visit https://www.brighthaven.org/what-is-animal-hospice/.
We are privileged to have provided hospice care for and shared the dying experience with over 600 animals who taught us so much. At BrightHaven, it is all about living well through the last breath! Our animal hospice education, based on holistic healthcare, includes a wide range of intriguing and helpful topics:
Death is not the extinguishing of the light… It is the putting out of the lamp because the dawn has come. –Rabindranath Tagore
BrightHaven Resources to Help Your Animal Live Well Each and Every Day!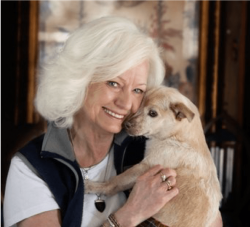 Walking with My Dog Through (End of) Life – an intimate look at a profound life passage, from terminal diagnosis through hospice care and natural death. (Author: Carol Howe Hulse, BrightHaven Education Program Manager)
Online Learning
Other Resources: