Suffering
This beautiful quote from The Hayagriva Buddhist Center succinctly and brilliantly addresses pain and suffering, which have a broad reach into everyone's lives…and deaths:
Physical pain is a physiological process. Mental pain comes from an agitated and disturbed mind. Suffering is our mental and emotional response to the pain. –The Hayagriva Buddhist Center
Medical intuitive Catherine Carrigan sums up the differences between pain and suffering in similar terms:
Pain is the physical experience. It's an ache in your muscles, the strain in your joints, the fever and chills, the throbbing in your temples, the congestion in your sinuses, the stabbing in your upper back, the shooting sharpness down your leg.
Suffering is your emotional experience. Suffering may or may not be connected to physical pain. You can suffer emotionally even on a sunny day when nothing apparently bad is happening to you on the outside. Suffering is the negative story you are telling yourself about what is happening now, what has happened in the past or what could potentially happen in the future.
Simply put, pain and suffering really are a part of life for us all, humans and animals alike.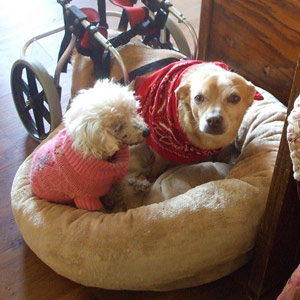 Humans generally react with fear and trepidation to signs of pain and think of it as suffering, based upon their own life experiences. Modern day life conditions us to resolve things quickly, to feel no pain, to suppress the symptoms and to make everything "bad" go away. Actually, symptoms can be our friends, often providing important information to help get to the root cause of a health condition. 
It's important to ask who is actually suffering: the animal…or the human observing the animal?
Also, a spiritual understanding of suffering can be tremendously invaluable for caregivers and all concerned in the context of animal hospice. It may help them see that the actual being is not suffering inside the fur-body. At BrightHaven, we believe that we are not our bodies or brains, but only dwell therein for the duration of life. Rather, we are first and foremost spiritual beings living a physical existence.
Will to live, which we discuss below, and quality of life for living and dying are also important considerations.
There is much fear and often anger surrounding the questions that arise around the topic of suffering, and therefore it may be good to develop a focus based on achieving a state of balance whether for continued life or for transition. 
That's our approach at BrightHaven, and our Menu for Healing is our guide.
Suffering is not enough. Life is both dreadful and wonderful…How can I smile when I am filled with so much sorrow? It is natural – you need to smile to your sorrow because you are more than your sorrow. –Thich Nhat Hanh
Will to Live
Many times, animals or humans will indeed be perceived as suffering or having a poor quality of life at any stage of their life, but do they show the will to live?
Particularly near the end of life, things can appear uncomfortable, difficult, especially if the being becomes immobilized in some way. Remember too, that loss of mobility is a very normal part of the dying process.
This perception of suffering is often cited as the reason to end the life, and perhaps rightly so depending on the circumstances, but does it warrant death as the only remedy in every case? The lick of your face, a loving expression, or a paw touching your hand – it can be argued that these are priceless moments of joy and simple pleasures for all concerned.
 Let's look at two of BrightHaven animals who were perceived as being in pain and suffering, and continued to show a strong will to live: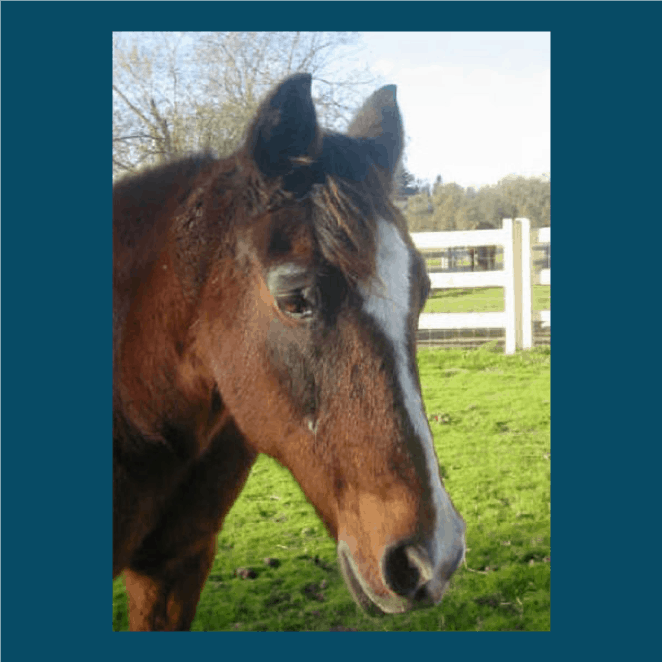 Nicki
When BrightHaven's Nicki the horse went down we knew she was dying. She, however, did not agree, and was quite determined each day to get up – and it took 9 of us to achieve that goal for her….and she was still eating a week into the dying process. Read Nicki's Story
---

Furbee
This handsome boy suffered major brain damage after being thrown from a car at the age of two weeks, resulting in a life filled with many seizures. He lived to double figures. Read Furbee's Story
---
"Out of suffering have emerged the strongest souls; the most massive characters are seared with scars." –Khalil Gibran
Knowledge reduces fear and increases confidence, and conscious decision-making may minimize future regrets. We invite you to explore our caregiver resources (including animal hospice education and holistic healthcare education), online learning and publications to learn more. You may also wish to book a consultation with BrightHaven President and Founder Gail Pope.