The same stream of life that runs through my veins night and day runs through the world and dances in rhythmic measure. – Rabindranath Tagore
Animal Hospice Care at BrightHaven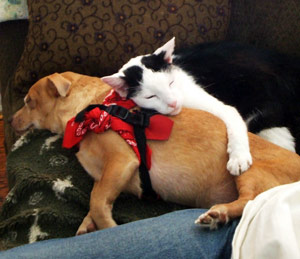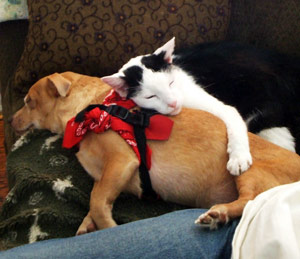 Loving and caring for elderly, disabled, and chronically ill animals is the foundation and purpose of BrightHaven Sanctuary. We have traveled a magnificent journey living with our animals, and they have taught us much about love and the circle of life and death—the animal perspective of life, and beyond. As these extraordinary animals have allowed us into their world, we believe we have learned to think and communicate at their level.
Since 1990, BrightHaven has evolved to become a unique holistic retirement retreat and hospice center for over 600 senior, chronically ill and disabled animals, a population which has an overwhelming need to find love and care in our society. BrightHaven's mission is one of healing—for body, mind and spirit.
For some, the healing experience we offer brought about improved health and a new-found love of life. For others, healing was a necessary preparation to complete the circle of life, death and the journey beyond.
BrightHaven recipe for balance of body, mind and spirit from youth through the autumn years is:
Love
Diet — raw meat based, fully supplemented
Diagnostics
Classical veterinary homeopathy for care at all life stages
Alternative vaccination protocol / titers
Immune and organ support, Reiki and other complementary therapies
Intuition
Natural path to death
Love
BrightHaven recipe for balance of body, mind and spirit at the end of life is:
Love
A changing diet, depending on what animal will eat
Diagnostics – likely not needed
Classical veterinary homeopathy for care at all life stages
No vaccines or titers needed
Immune and organ support, Reiki and other complementary therapies
Intuition
Natural path to death
Love
We are mindful of the word hospice at BrightHaven as many people associate it with actual dying. Geriatric people are not considered as dying, or offered hospice, even though their lives may be filled with health difficulties. Their practitioners keep on going that extra mile in their care until it is impossible for daily life to continue without death appearing close.
Animals in this stage of life are often deemed hopeless and euthanized. Should we not go that extra mile? BrightHaven and the clients we counsel often do—sometimes with extraordinary results. Through our many experiences with hundreds of animals, we see this time as the autumn of life—a changing season to be treasured and enjoyed.
Animals are sentient beings
Our focus through this season remains that of healing for the highest good, coupled with love and every comfort possible. One of the core philosophies at BrightHaven is the belief that animals are sentient beings—capable of conscious awareness, feeling, and suffering—and as such deserve an environment and conditions which allow them to achieve a state of well-being throughout the entirety of their lives.
After the verb "to love," "to help" is the most beautiful verb in the world. – Bertha von Suttner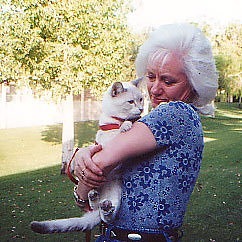 Once an animal is "adopted" by BrightHaven, they live in a beautiful, well-balanced community of animal and human beings, as part of a loving family, and are completely free to roam indoors or outside in the enclosed gardens.
We take special care to create a peaceful and spiritual environment grounded in the oriental art of Feng Shui. From the placement of candles, fountains, and wind chimes to the crystals and other carefully situated ornamental art, care is taken to create peace, harmony, and balance—all essential for healing, both physical and spiritual.
A critical aspect of the BrightHaven philosophy involves the methods we use to treat the animals in our care. Animals deemed "hospice patients" very often have already been recommended for euthanasia, as modern medicine may have nothing left to offer for their health concerns, and many are euthanized at that time.
These days, however, more and more people are realizing the need to care for their animal family in the same way as their human one—in the peaceful and loving environment of their own home through those last days, or months, or sometimes even years of life.
Love, comfort, dignity and quality of life
Hospice care at BrightHaven is very much aligned with that of hospice care in the human world, where love, comfort, dignity and quality of life are of the highest importance, and the spiritual aspect of the journey is highly honored. The work of Michael Holmes in his book "Crossing the Creek" underlines our BrightHaven philosophy and you are encouraged to visit his website to learn more.
The soul should always stand ajar, ready to welcome the ecstatic experience. – Emily Dickinson
As mentioned, we employ a truly natural approach to our overall animal care, although we do not hesitate to turn to the power of conventional care when deemed appropriate. The formation of a team of healthcare and other providers is very important during the hospice time, and BrightHaven is lucky to enjoy the expertise of a wonderful team of support, led by supervising veterinarian Dr. Christine Barrett, to help and guide us.
Holistic veterinary medicine is the "umbrella of treatment" under which we operate. It encompasses the examination and diagnosis and considers all aspects of the animal's life. It employs all the practitioner's talents.
Our approach
Our approach is grounded in classical veterinary homeopathy, with a combination of conventional veterinary medicine and the feeding of a natural raw meat-based diet, including the use of nutraceuticals, subcutaneous fluid therapy if needed, animal Reiki, and other alternative modalities of healing as indicated. These might include;
Herbal medicine,
Flower essence therapy,
TTouch,
Acupuncture
Traditional Chinese Medicine,
Chiropractic,
Animal communication,
Bowen therapy,
Craniosacral therapy,
and dental cleaning without anesthesia.
Over the course of many years, these alternative treatment modalities have been used with great success at BrightHaven. As practitioners have volunteered their services, the modalities have become a daily part of the BrightHaven experience.
Animal Reiki
Animal Reiki is a non-invasive energy healing system that has produced powerful healing results for the animals in our care, and has proved invaluable to us as we tread the path of hospice care. It is ideal for use with animals because its effectiveness is not dependent upon physical contact—the animal controls the treatment, accepting Reiki in ways most comfortable, either hands-on or from a distance, or a combination of the two.
Natural diet
Although still viewed by many as controversial, the use of a natural diet has been the mainstay of feeding at BrightHaven for many years, with absolutely astonishing results. When we started feeding a natural raw meat-based diet to our animals about 15 years ago, we were amazed at the vast improvement in health and energy. Suddenly cats in their 20s began to jump to counter tops, their coats turned into soft velvet, and their eyes began to sparkle with life.
Every feline and canine resident at BrightHaven, regardless of age or physical condition, is fed the diet and even the oldest or most ill animals, show remarkable improvement when switched from conventionally processed pet food to our natural raw meat-based diet, with excellent supplementation.
Immune strengthening & nutraceutical products
Immune strengthening and nutraceutical products comprise another important part of our overall nutritional program. These are natural products that are used on a daily basis to help strengthen the entire system and vital organs. The precise mix is determined specifically for each animal based on his or her current health and is only discontinued when it is clear to us that it is no longer required, towards the end of life.
Life is not about waiting for the storm to pass… It's about learning how to dance in the rain! – Vivian Green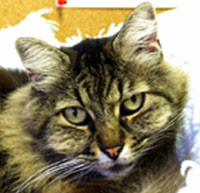 As the hospice time draws further toward the end of this life, changes must be made to diet and healthcare in honor of changes seen.
For BrightHaven animals, the diet may gradually include more staples such as pureed natural diet, perhaps with the addition of a little baby food, raw egg, raw liver, or veterinary products such as AD or Clinicare. Immune and nutraceutical products will be discontinued as inappropriate.
Our mainstays remain homeopathy and Reiki during these times, and generally a great balance for the gradual dying process can be achieved. On rare occasions the symptoms associated with pain may not be able to be relieved by natural healing, and so we then turn to the palliative care offered by modern medicine.
Quality of life is an important issue during these hospice days, and we do everything we can to promote happy and comfortable days for those who may be incontinent, in a wheelchair, bed bound or experiencing changes to general health or well-being.
Natural Transition vs. Euthanasia
One cannot talk about the BrightHaven philosophy without including a discussion on choosing a natural transition versus euthanasia. We believe in allowing animals in our care to die a natural death in peace and with dignity. This being said, we understand that not everyone shares this belief; people come from various backgrounds and traditions and so each must follow his or her own path of understanding.
For some, the decision is simple, based on a "knowing" acquired through one's lifetime. For others, the decision can be the most difficult they will make during the course of the animal's life. Each of us must follow our own path and be true to our own philosophy. The animals at BrightHaven have taught us so much, and one of the critical things we have learned is that, if given the choice, they all prefer to die naturally, in peace and with dignity, surrounded by those who love them. In other words, they do not wish to be euthanized at all.
For them, death is a natural part of their journey and simply signifies time to move on to another place. Death is as natural as birth. Animals have told us that they do not fear death itself, and are more attached to experiencing a death shared in love, whether it be natural or assisted.
We have come to realize that the fear surrounding death was mostly our own, and through this realization we have grown to understand that while euthanasia does have a place in modern veterinary medicine, it is not a path that we at BrightHaven have chosen to follow. We also understand that each and every person who has shared life with an animal has been faced with such a decision. At one time or another we all have been consumed with uncertainty over wanting to do the right thing for our beloved companions. Animals know we are trying to do our best for them.
The Quality of Dying Checklist is a useful tool to help you understand what is normal in the natural dying process, which helps alleviate fear.
Your thinking is simply a reflection…of your heart. – Doug Firebough
When allowed to do so, animals prepare carefully for their death. It is an event they recognize, and they know how to cope with the final journey of this life. Generally, the time is approached without fear or obvious pain.
Through our experiences with many such transitions and journeys, we have learned that unlike humans, who suffer from fear and recall, animals live entirely in the moment and die in the moment as well. We endeavor to approach each day with love, not fearing what is ahead, and appreciate each day as if it were the first of a new life.
Fear can only begin to subside when guilt and worry do too, and the attitude with which we live each day is extremely important to the animals in our care. They know and understand our thoughts, so we take special care to keep love in our hearts at all times.
Over time, we have developed easier communication with them at many levels, and believe we can now better recognize their needs and wishes during this period approaching transition. We accept that as sentient beings they must be allowed to choose their time to leave; they know we are there in support.
Daily life at BrightHaven can be a refreshing change for visitors, as the subject of death is approached from a spiritual perspective, and panic does not exist here. Due to the age and health of the animals, there is often someone approaching the end of life with us, and this is first recognized and accepted by all as supportive treatment is planned.
Last days as celebration of life without fear
Each and every one of these special beings is allowed to stay in the comfort of his or her own bed, or to roam where they choose in the house. A human will remain close by day and night to offer a drink or snack, a clean bed, or even just some loving company as the animal plans his or her journey to the next life. All in all, these last days are treated as a celebration of life itself, and without fear. We remain as focused on the quality of life as on the quality of death!
Death is psychologically as important as birth. Shrinking away from it is something unhealthy and abnormal which robs the second half of life of its purpose. – Carl Jung
And so, friends, the BrightHaven hospice philosophy is quite simple and is all about achieving a balance of healing for body, mind and spirit. It embraces living in the moment in love and joy and the understanding that healing, which is primarily influenced by love and compassion, is required for both living and dying.