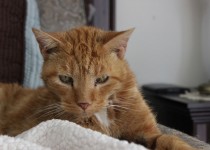 BrightHaven's Rescue program re-homes animals from shelters who are most at risk for euthanasia. These animals are often seniors or have a medical concern that makes them most vulnerable as shelters reach capacity.
We specialize in medical rehabilitation, which makes us unique. So many of these animals would never have this opportunity elsewhere.
Older animals are most often wonderful companions, having already given most of their lives to loving human beings. They now need love and care in their golden years. Their medical concerns are frequently treatable or manageable when the appropriate resources are gathered, giving an animal a second chance to live a fulfilling life.
We place animals directly into foster homes from the shelter. Find a furry companion and contribute to the life of an animal by adopting (see Adoptable Animals below) or becoming a foster family.
PLEASE NOTE: Our felines-only rescue program is based in Northern California.
For more information please contact:
Susan Hoffman,
Animal Rescue Coordinator at susanh@brighthaven.org