Here is a heartfelt memorial to lovely Lali, written by BrightHaven's President & Co-Founder Gail Pope:
"Dear friends,
On January 30th 2014 BrightHaven life changed as a dear and joyful old lady skipped into ourlives. Lali was rescued in the nick of time from The New Hope Animal Shelter by our friends Barbara and Sue, and flown to Santa Rosa courtesy of Zachary Bryson of Bryson Air.

Lali settled in quickly, loving her new life and everyone in it, but none more clearly than her new Daddy, Richard, who she leaped and pranced for joy after, as he walked through the house!
Her first two years passed quickly and were filled with her joyful exuberance despite her failing sight and hearing, and the growing presence of mammary gland tumors, along with heart disease.
Lali remained happy and content, ignoring her "inconveniences" – largely, we believe, due to the excellent care of Dr. Michele Yasson, her volunteer classical veterinary homeopath.
Albeit slower of gait and eventually blind and deaf, this last year has been one of enjoyment for this adorable old lady, whose best friend was Lily, also blind and mostly deaf! They made a great pair!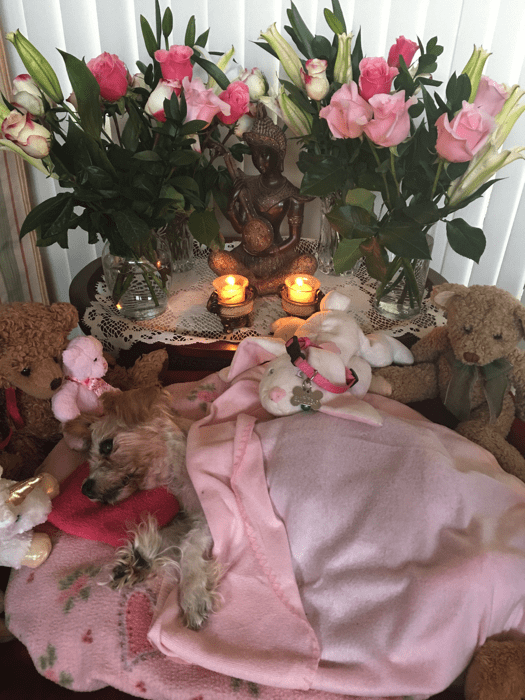 Lali found herself without her usual energy last Sunday, the 3rd September and began her last journey – very slowly and easily, in fact adoring her food almost to her last day of life.
She passed at 7.10pm on September 7th, 2017, easily and peacefully with Richard and I beside and holding her.
Lali lay in state, covered in pink and with gorgeous pink flowers to commemorate the beauty of her special soul.
Please join with me in sending love, prayers and Reiki to help Lali as she trips along the path to the afterlife."