Magnificent soul. Outgrowing earthly confines. Freedom is calling… —Carol Howe Hulse
BrightHaven President and Founder Gail Pope shares a heartfelt tribute to her husband Richard, also a BrightHaven founder. His unwavering generosity, commitment and lifelong passion for animals helped to create and make BrightHaven and our work a continuing reality. 
"It is with profound sadness and a deeply grieving heart that I share the news that Richard, my beloved husband of 58 years, died very peacefully on Friday 1st September at 9:30 p.m., surrounded by his family. He passed on the same month and day as his cherished mum Iris, who died in 1991. Richard was 77 years old, and we had been together since the age of 16.
I can honestly say that BrightHaven would not exist without Richard.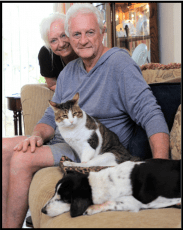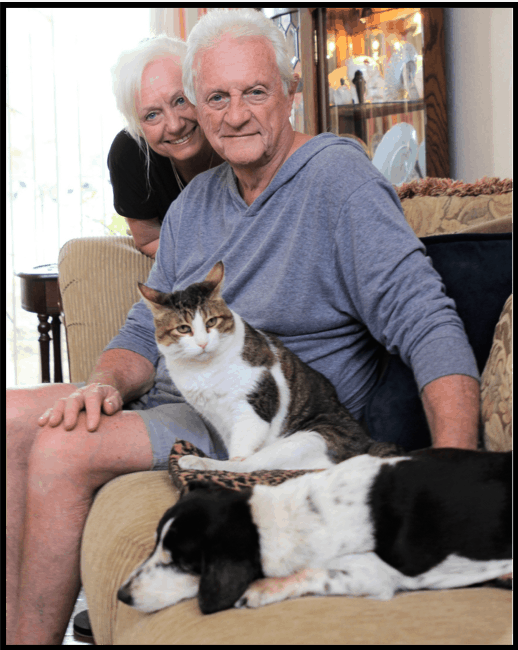 When I decided in 1990 that I wanted to dedicate my life to helping senior, chronically ill and disabled animals – extremely vulnerable beings who were too often overlooked by society – Richard was right there with me.
Together we founded the nonprofit Cats are People Too, which evolved into BrightHaven. He lovingly opened his home and heart to hundreds of new animal family members and shared BrightHaven's message of hope and healing with all who would listen.
One of our proudest BrightHaven moments occurred when we received the prestigious Jefferson Award for Public Service in July 2013, in acknowledgement of devoted service to these amazing and wonderful animals.
I'd like to share a bit more about Richard's life and his many interests.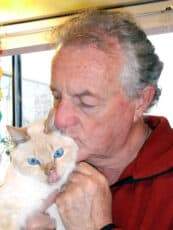 Richard was born in Harlington, England, on October 19th October 1945, and was the first child of Ernest Bernard Pope and Iris Freda Pope.
Richard graduated High School in Northwood Middlesex, UK and subsequently attended The West London College of Building Construction and Engineering. He then worked for various construction and building companies until joining Taylor Woodrow Homes.
In 1986 he was asked to the join their California division to help expand operations in the western US and relocated the family to Southern California, where he was eventually made CEO of the western United States home building division.
Over Richards's long career he was thought of as one of the most respected and forward-thinking development leaders in the United States. He held senior management positions at various companies and even formed his own successful home building company named St. James Properties.
Richard loved to travel and the executive positions he held over the years took him all over the world including Canada, China, Saudi Arabia, India, North Vietnam, Europe and the UAE.
At the time of his passing he was proud and honored to be serving as Chairman of Summit State Bank, located in Sonoma County, California, and also as Chairman of The Dang Collective, a performing arts and education company headquartered in London, UK.
Like his dad and his son Richard loved the game of golf and would be out playing whenever he could. True to character he played best and incredibly calmly under pressure and as such there were few who could beat him. He loved the competition and the frequent moments when he could deliver an opponent-crushing, clutch-winning shot to take the game!
Richard lived his life to play and listen to music; he loved to play the guitar and really imagined himself as Eric Clapton, although we're not sure the rest of the family agreed with that! In addition to Eric Clapton, he loved John Lennon, Paul McCartney, Carlos Santana, Bob Marley and BB King to name but a few. He always would quote John Lennon and say, 'Everything will be okay in the end. If it's not okay, it's not the end.'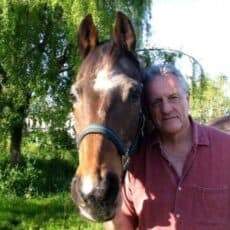 However, his greatest joy and passion came from his love of animals.
Richard loved and adored his family and went to great efforts to ensure that everyone kept and will continue to remain closely connected in the fast-paced busy times we now live.
BrightHaven life will never be the same without him, but we know that Richard will forever be guiding us from behind the veil."
Goodbyes are only for those who love with their eyes. Because for those who love with their heart and soul, there is no such thing as separation." —Rumi