Options for Video Call, Telephone or Email Consultations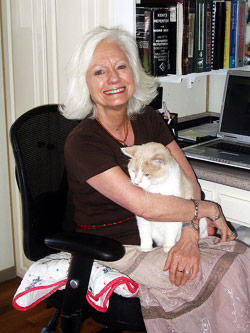 With Gail Pope
Gail is pleased to offer consultations regarding our philosophy, diet, healthcare and lifestyle, hospice care and transition, etc.
**Important to note: I/we are not qualified veterinarians and can only offer our opinion and thoughts based upon our 25 years of experience taking care of our animal family and from the miracles of healing we have observed.
Scale of Fees
We are many times requested to offer free opinions and give consultations to those who have often spent all their money at a vet hospital only to discover they have no more options and finances are running low.
Much as we would love to help everyone, we have to make mention that BrightHaven is a nonprofit and also fighting hard to survive in these extremely challenging economic times.  General operating costs are substantial in our varied work of rescue, sanctuary and hospice care, not to mention education too, and so we have no alternative but to charge a fee. We do wish to be of service to many though, and so offer the following options:
$100 per hour via telephone or email
Email consultation is Gail's preferred way of consulting as it gives more time for thought and in-depth response.
Here's how it works:
Email or telephone time will be charged at the rate of $25 per quarter hour
The minimum charge for any part of a quarter hour will be $15
When you become a consultation client you will be given Gail's cell phone number for emergency or after hours calls
Emergency calls are $25
Please begin all consultations by emailing:
Name of your animal and a photograph
Most recent blood panel or tests
As much information as possible about what is going on with your animal
Name of person referring you for consultation (if applicable)
Payment options:
To request or ask a question about a consultation:
Contact Gail via email: consultations@brighthaven.org