Gail Pope's heartfelt farewell (see below) to Tarka clearly shows BrightHaven's key tenets, which also apply to animal hospice care:
Animals are sentient beings, capable of conscious awareness, feeling and suffering. They deserve an environment and conditions that allow them to achieve a state of well being throughout their entire lives.
Animals are always true to themselves and are lovingly accepted just as they are.
Love is an essential, transformative and powerful healing force! The indisputable importance of love to living a full life is but one example of the deep wisdom shared with us by our beloved animal teachers over the years.
Healing is an internal process, all about restoring balance to body, mind and spirit. Healing can be achieved without a cure (absence of disease).
We find that animals who have achieved the best quality of health during living are the ones who experience the gentlest dying process.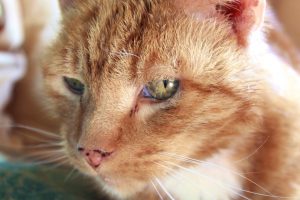 "On the 5th day of the 5th month, at 5am, one of the great loves of my life, died.
Tarka's reflection in the mirror confirmed him to be a lion and the color of his fur clinched the deal. A magnificent lion of a cat he was, and Tarka surely stole my heart away with his mixture of sweet tenderness along with bossy and sometimes painful slaps for attention.
Along with sweet and shy sister Chelsea, FIV positive Tarka came to BrightHaven in May 2013 after the death of their beloved parent, Brian. Man and his lion were once again lovingly and fittingly reunited on Cinco de Mayo this year.
Twenty year old Tarka's hospice journey was long and somewhat arduous–for me–but Tarka enjoyed the last chapter of his life very, very much. His chronic renal disease, complicated by anemia, his nasty mouth issues and infections, gradually worsened, along with his hyperesthesia attacks (excessive sensitivity of the skin). It was plain for all to see that, although our eyes saw an old man gradually approaching the end of life, his mirror continued to reflect the magnificent lion for whom nothing was impossible.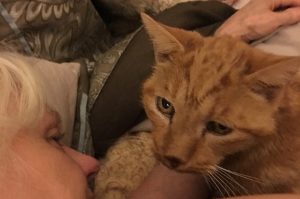 Tarka continued his normal daily routine and diet, along with additional good quantities of his much loved raw beef liver and lots of love and attention from us all. Although increasingly frail for the last six months of his life, Tarka insisted upon sleeping in my bed with me, often slapping me vigorously in the face if he needed a drink, a snack or a visit to the litter box. This behavior continued to his very last day.
Tarka's death came very slowly for his will to live remained powerful, but Mother Nature followed her gentle course and with a last squeeze of my hand in love, he left.
I will be forever grateful to Dr. Diana Bochenski, his volunteer homeopathic veterinarian, for her ever-loving support and to Brian for loaning his son to me for a period of my life that shall remain ever-sweet due to Tarka's presence."
Courage is not having the strength to go on; 

it is going on when you don't have the strength.

– Theodore Roosevelt