The answer to this riddle: human hospice care!
Guidelines for Human Hospice Care
The guidelines for hospice care for humans have been very carefully created over many years and form the foundation for animal hospice upon which we must all build:
Hospice is a special philosophy of care designed to provide comfort, support and dignity to those dying and to their families during life-limiting illness
The goal of hospice care is to enhance the quality of living while dying
Hospice is about love, joy and devotion
Hospice care can prolong life, but does not hasten death
Hospice care often embraces both conventional and alternative medicine
The hospice team comprises specially trained professionals, volunteers and family members
Hospice addresses all symptoms of a disease, with a special emphasis on controlling pain or discomfort
Hospice addresses daily emotional and spiritual needs of both the dying and their families
Hospice offers a variety of bereavement and counseling services to families before and after death

The International Association for Animal Hospice and Palliative Care (IAAHPC) was the first animal hospice organization to form and includes members from all walks of life. BrightHaven's Gail Pope was an early member of the IAAHPC Board of Directors, from 2009-2010. 
As we know, there is no place for euthanasia in the world of human hospice care. Therefore, many different viewpoints exist as to if and when euthanasia should be part of animal hospice.
For example, many members of the veterinary profession see hospice as that special time in life before euthanasia is performed. Others feel that natural death is the primary goal barring unforeseen complications, and still others see natural death as the only option.
We strongly encourage anyone interested in learning about animal hospice to first read more about human hospice, death and dying on many available websites including those of the National Hospice Care and Palliative Organization (NHPCO) and the Hospice Foundation of America (HFA).
BrightHaven's Animal Hospice Perspective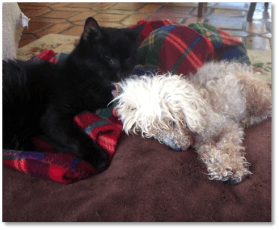 BrightHaven's approach to hospice care is definitely aligned with hospice care for humans where love, comfort, dignity and quality of life are of the highest importance, and the spiritual aspect of the journey is deeply honored.
We strive to not hasten or postpone death, but to work within the bounds of nature and the best of medical care.
Our guiding statement:
At BrightHaven when an animal enters hospice care our expectation is that the animal will have a painless, loving, peaceful journey followed by a painless, loving, peaceful and natural death.
If a place is reached during that journey where the caregiver, the veterinarian and the animal believe that the animal is in need of critical assistance, then euthanasia will be used.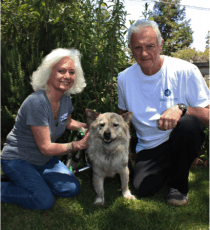 Animals approach the end of their lives with the same wisdom and grace with which they have lived. They are very conscious of the value of all stages of life and excel in the ability to live in the moment and find the sacredness in all experiences.
We at BrightHaven have been taught to honor the circle of life and death and have come to respect the process of transition as natural as that of birth itself, the circle of life thus becoming complete. There is nothing more sacred than to care for a beloved friend during his or her final time with us on earth.
Read more about our animal hospice philosophy.
Death is not the extinguishing of the light…It is the putting out of the lamp because the dawn has come. – Rabindranath Tagore
Helpful BrightHaven Resources About Animal Hospice & Natural Death
The BrightHaven Guide to Animal Hospice—learn how to care for your animal companions in their Golden Years and through the end of life
Soar My Butterfly: The Animal Dying Experience—a simple guide to the signs and symptoms you may encounter during the final stages of the natural dying process
Animal hospice or holistic care consultation with Gail—send an email to: consultations@brighthaven.org
Coming in 2016: An online self-paced learning program, which includes a module that will go into deeper detail regarding natural dying, and also a module that share BrightHaven's gentle shift from a conventional to a holistic healing approach.
***UPDATE: These 2 courses now available!***
BrightHaven Guide to Animal Hospice: The Gentle Shift – Brighthaven Founders Gail and Richard Pope paint for you a simple picture of their healing philosophy by demonstrating how they progressively learned about holistic healthcare, embraced new concepts and witnessed healing miracles. For instance, they explain what happened when, with great trepidation, they completely changed their trusted commercial diet to one based on raw meat. Gail and Richard also share how a beautiful black cat profoundly shifted their thinking about natural death.

BrightHaven Guide to Animal Hospice: The Animal Dying Experience – In this two-part course, Gail and Richard, who have been present at more than 600 animal deaths,  will take you through the final stages of the animal dying experience and how this very special time of life is approached and honored at BrightHaven. They also offer some practical things that can be done by the caregiver for hospice support, which is focused on the animal's comfort and wellbeing. You will discover that the dying process and death are nothing to fear, which is one more important life lesson from the animals
Praise for Gail Pope's animal hospice expertise and support:
What you have done for my life, and for the lives of my family, and what you continue to do………..you bring peace where there is agony, and wisdom to confusion. –Jay B.
I appreciate your work so much, and I am so grateful that there are such resources after all. God bless you for this work…  I know you already know how many of us need this kind of assistance in making the ending days of our beloved companions as rich as they can be. –Michael B.
I cannot express in words the deep gratitude and love I feel for you as you so beautifully helped me to understand and embrace this process…  In Freddie's first communication with a medium he said he wanted to go with his dignity – now I understand that this is truly what he meant. Thank you ever so much for the gift you have. — Gail D.