We are excited to announce the newest module in our The BrightHaven Guide to Animal Hospice series!
BrightHaven's Gail and Richard Pope have been present at more than 600 animal deaths and share their firsthand knowledge in The Animal Dying Experience.
In this two-part course, Gail and Richard will take you through the final stages of the animal dying experience and how this very special time of life is approached and honored at BrightHaven. They also offer some practical things that can be done by the caregiver for hospice support, which is focused on the animal's comfort and wellbeing.
You will discover that the dying process and death are nothing to fear, which is one more important life lesson from the animals.
What you can expect to learn from The Animal Dying Experience (Course Objectives):
PART 1
Understand BrightHaven's animal hospice and end-of-life philosophy, including a little on the subject of quality of life.
Receive an outline of the 1-3 month period before death.
Discover the importance of grieving with loved ones before death, a lesson from the animals.
See a breakdown of events from two weeks to just days and minutes leading to death.
Learn helpful suggestions for the person companioning the animal.
PART 2

Learn BrightHaven's philosophy on natural death and euthanasia.
Discover why the Vigil, the time right before death, is for being, not doing.
Learn the four types of death experienced at BrightHaven.
Understand how BrightHaven's beloved animals are honored after death
Receive more insights about grief.
This module also introduces a Quality of Dying Scale, a tool designed to help those who have chosen the natural path to death for their animal, to assess the animal's wellbeing at any time within the dying process.
To enhance your learning experience, we've included a quiz at the end of each module. You'll receive a Certificate of Completion once you've successfully finished the course.
The Gentle Shift
The first module in this series is a guide to natural holistic wellbeing for every life stage of your animal.
The Gentle Shift shares how the BrightHaven animals led Gail and Richard to gradually adopt a more holistic approach to healing based on the positive results they were seeing, how BrightHaven's Menu for Healing evolved and why they chose a natural path to death for the animals. For example, they explain what happened when, with great trepidation, they completely changed their trusted commercial diet to one based on raw meat.
Praise for The Gentle Shift Module:
"I've just completed Module One 'The Gentle Shift'. What a beautiful experience it was to learn of Gail Pope and Richard Pope's journey and of their evolving process. Such a loving, calm and heart-centred way of learning about and experiencing hospice and palliative care. Thank you as always dear Gail and Richard and I so look forward to learning more with you in the months to come. Thank you so very much for all you do and for what you are and what you share and enable us to aspire to also. With the greatest love and respect to you both and Blanca and all of your other beautiful volunteers, helpers and animal teachers."
—Jan K.
What you can expect to learn from The Gentle Shift (Course Objectives):

Understand BrightHaven's Menu for Healing and why it is so important to an animal's wellbeing
Follow the evolution of the Menu for Healing
Find out the difference between healing and cure
Discover BrightHaven's path to natural death
Learn about the healing power of love and why it appears in the Menu for Healing twice
…and much more!
To enhance your learning experience, we've included a quiz at the end the module. You'll receive a Certificate of Completion once you've successfully finished the course.
Testimonials
"The energy at Brighthaven is almost indescribable. As soon as you enter the house, you know you are someplace magical. The love is present everywhere. When I die and come back, I want to be a cat living with Gail and Richard and all the wonderful people and animals at Brighthaven!"
—Jenny S.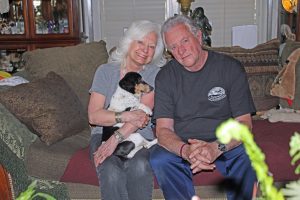 "I am unable by gesture or through the limits of the written word, to communicate what you and the BrightHaven philosophy mean to me. I thank you for the introduction to living without fear. Praise God."
—Jay B.
"I appreciate your work so much, and I am so grateful that there are such resources after all. God bless you for this work… I know you already know how many of us need this kind of assistance in making the ending days of our beloved companions as rich as they can be."
—Michael B.
Additional Facts About the Instructors:
Gail and Richard never give medical advice or make prognoses but refer clients to professional practicing veterinarians.
Gail has an international consultation practice and is contacted by many vets and animal caregivers regarding BrightHaven's natural methods and protocols for animal care and hospice.
Gail has written five books that are available on www.amazon.com.
Gail was a founding board member of the International Association of Animal Hospice and Palliative Care (IAAHPC) organization. IAAHPC was the first animal hospice organization to form and includes members from all walks of life including the veterinary community and general public.
Gail and Richard give many presentations that deal with the art of dying, animal hospice care, restorative living and natural, hospice-supported death. They understand most alternative treatment modalities and have a resource of practitioner referrals.