BrightHaven's President & Co-Founder Gail Pope recently honored Lily and Sophie with moving memorials.
In Memory of "Big Dog" Lily
(Written December 30, 2018)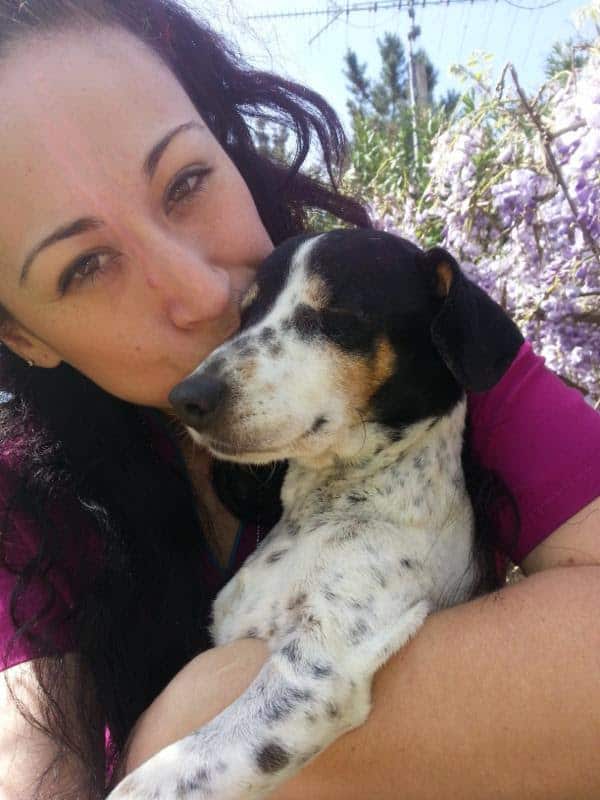 "At 324am on Friday 29th December 2017 BrightHaven bade fare-thee-well to our dearest Lily dog, AKA "Big Dog" (she was affectionately called Big Dog by Blanca as she was small in stature but with a huge, big dog spirit!) or "the sweetest dog on the planet" or "Lily-Pop".
Lily, approximately 7-9 years old, came to BrightHaven on December 1st of 2012 quickly stealing the hearts of all she met with her sweet, gentle and loving ways. Her advanced diabetes had already caused painful glaucoma with hugely swollen eyes and so our first tasks were to have her eyes removed and to have her spayed, along with a hernia repair. Dr. Chahal felt she must have already had at least 7 litters, before being taken to a shelter as a stray…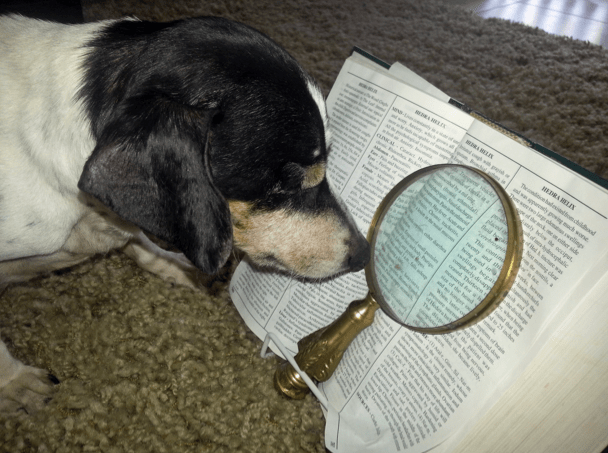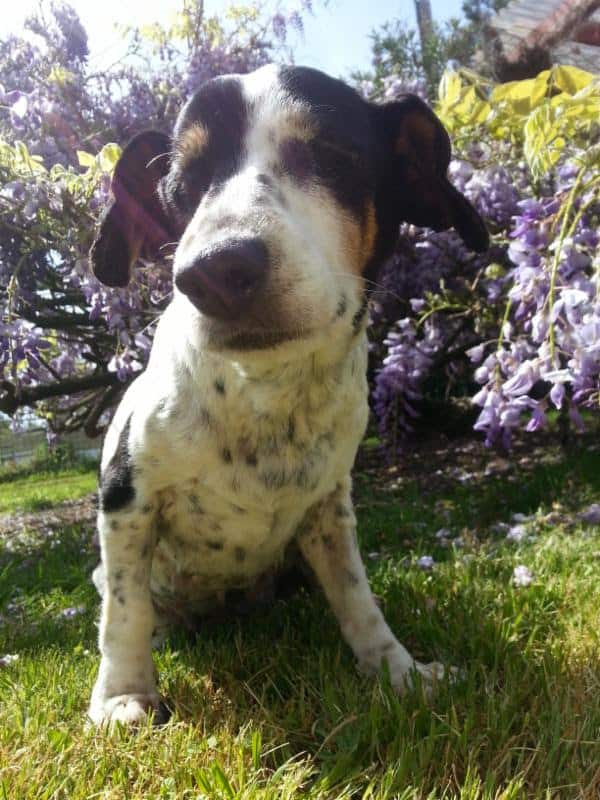 Despite being mostly deaf and with no eyes, Lily quickly became a favorite with sanctuary guests and volunteers, and especially at Reiki seminars where she was always a very willing participant as well as an accomplished assistant teacher for Kathleen Prasad of Animal reiki Source. In her spare time Lily enjoyed taking volunteers for walks, giving cuddles, posing for photographs and hanging out with cats and her best friends Jack and Lali.
Lily loved life and all that came with it and never showed great concern about her advancing cancer or diabetes. Dr Jeff Feinman became her veterinarian and then later, Dr. Jeff Levy. Under their care Lily blossomed and her diabetes remained under control, as did her cancer.
About six months ago Lily began to slow her pace on walks and show us a little less spring in her step…Our trusted friend and communicator/intuitive, July Berrin of The Temple cat passed on that Lily was beginning to look forward to her next life but other than the little drop in energy, we saw no indication of that and pushed it to the back of our minds. During the last month Lily's excitement for walks waned greatly as did her energy for life, and so we finally began to accept the truth of July's words.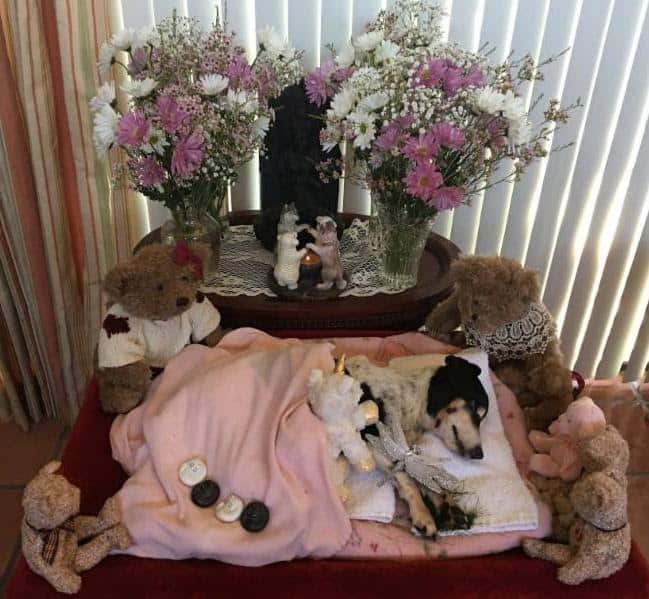 Lily's was a gentle and slow journey to the end of her life and even the day of her death she was able to walk a little in her favorite grass. July called to say she requested grass to be placed under her feet after her death and that she had a joke for Blanca. She said, "Tell her that when I leave this body I will immediately be a very BIG DOG – ha-ha!!"
And so, Lily lay now lies in state with grass under her feet and the BrightHaven Teddy brigade to watch over her. There is also the dragonfly to bring transformation and light, as well as the magical power of the unicorn. Her flowers are a gentle mix of pink and white as best suited to her gentle self.
Please join me in sending love, Reiki and prayers for her journey onwards and reunion with many old cat and dog friends."
In Memory of Sophie, BrightHaven Secretary Extraordinaire
(Written January 24, 2018)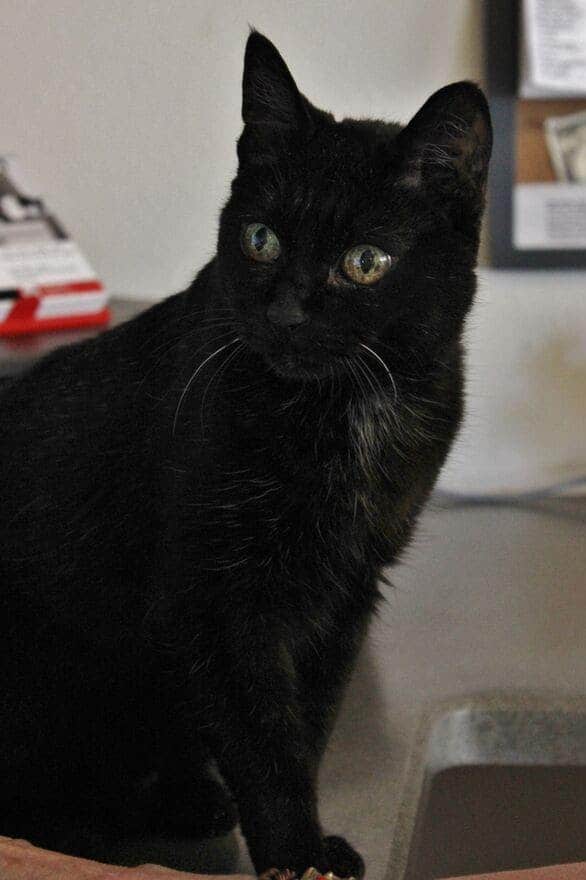 "On January 22nd, just before noon, Sophie Pope stepped out of her slender and lately fragile feline body and headed for the stars, leaving behind her more than twenty years of shared and cherished memories.
Sophie was brought to me in 1997 by a volunteer who took her from a man standing outside the Orange County Animal Shelter begging someone to take her…..She was a young, shiny, fearful and quite gorgeous black spitfire with sparkling eyes way back then, and that was how I still saw her on Monday, some twenty years later.
Sophie had multiple pet names, Soph-moph, Sophie-Pope-ey, Sofia, Sofiken…and she loved them all. Sophie did not mix much with other cats, preferring to stay on task in her office and that suited us both just fine. She became my accomplished secretary, learned assistant and beloved confidante – and she moved house with BrightHaven four times with practiced ease!
Her health was not to prove as easy as, when very young, she developed lymphacytic-plasmacytic stomatitis and eventually had all her teeth removed. I can never thank her volunteer classical veterinary homeopath Dr. Pat Bradley enough for all she's done for Sophie over so many years, helping her transform into a beautiful being and the great light in my life.
Her later years brought minimal illnesses her way and her slightly failing kidneys and slightly elevated thyroid never became great problems.
In this video, Sophie is in her 20s, but you'd never know it! Could BrightHaven's Menu for Healing, which includes classical veterinary homeopathy since Sophie was 2 years old, contribute to her longevity? We at BrightHaven certainly think so!
Sadly, or maybe happily, it was the tides of time that finally caught up with her small, wiry and elderly self and when her time came, she made her transition with such ease and peace that Blanca and I could scarcely believe she had left.
The night light in my office is out tonight for the first time in a very long while and I am left to wonder if I will ever again be fortunate to stroke one of the great loves of my life as I work.
And so now Sophie lies in state draped in a Buddhist prayer shawl, holding rose quartz crystals and adorned with a rose quartz necklace.

Of course she also has the BrightHaven teddy bear brigade to watch over her, as well as the dragonfly to bring transformation and light, and also the magical power of the unicorn. Her flowers are a gentle mix of pink and white.
Please join me in sending love, Reiki and prayers for her journey onwards and reunion with many old cat and dog friends."