As BrightHaven's Gail Pope wrote in "The Art of Dying—What Animals Teach Us" article that recently appeared in the Natural Transitions online magazine:
"The death of a beloved animal companion is one of the most difficult things we as animal lovers ever face. In my experience, sometimes this loss is more difficult than that of a human family member due to the unconditional love that animals bring into our lives. It is hard to replace the love that is given so freely by beings whose whole purpose is to make us the center of their lives and to teach us about all aspects of life, including death."
The guidelines for hospice care for humans that have been very carefully created over many years form the foundation for animal hospice. Barbara Karnes is an award-winning author, end-of-life educator and human hospice nurse whose perspectives on end-of-life issues, death and dying are very similar to those of BrightHaven. In fact, Gail dedicated her book Soar, My Butterfly: The Animal Dying Experience (available on Amazon) to Barbara!
In a recent blog post, Barbara provides excellent information about experiencing grief, releasing guilt and practicing good self care. We feel that her perspectives directly apply to those grieving the lost of a beloved animal companion.
"Grief is like the ocean:

it comes on waves, ebbing and flowing.

Sometimes the water is calm

And sometimes it is overwhelming.

All we can do is learn to swim"

~Vicki Harrison
_____________________________
BrightHaven Resources to Help Your Animal to Live Well Through the Last Breath
Gail & Joey
Photo by Lexie – in joy photography

Do you have questions about how BrightHaven's holistic healing or animal hospice care approaches can help your animal? Book a consultation with Gail by sending an email to consultations@brighthaven.org.

The BrightHaven Guide to Animal Hospice—learn how to care for your animal companions in their Golden Years and through the end of life (Author: Gail Pope)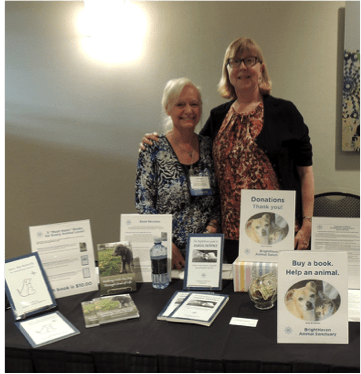 Walking with My Dog Through (End of) Life—an intimate look at a profound life passage, from terminal diagnosis through hospice care and natural death. (Author: Carol Howe Hulse, BrightHaven Education Program Specialist)