BrightHaven President & Founder wrote a lovely memorial in honor of beautiful Annelie:
"On July 6th our heartstrings were challenged yet again as we said fare-thee-well to another BrightHaven angel called Annelie.
This sweet lady was brought to the BrightHaven sanctuary in 2016 and when it became apparent that the sanctuary property had to be sold, she came to live with Richard and me and our other lifetime or hospice care animals. How lucky we were!
Adored immediately for her sweet, gentle and affectionate ways, Annelie soon settled into daily life, loving her food and special cozy beds.
She never really mixed with other cats or dogs, making it abundantly clear she preferred the company of her human family.
Annelie soon shared her delightful trick with us and would always do this every morning in greeting as the day began:  
Here is another cute video of her:
Annelie never ventured far from her home, which was my office, preferring to supervise Blanca and me in our daily tasks and always showing her readiness for a gentle groom–and with that long and thick oriental fur of hers–I can tell you we had our work cut out to keep her looking gorgeous!
With the help of volunteer practitioners including classical veterinary homeopath 
Jeff Levy, DVM, PCH
, medical intuitive
July Berrin of The Temple Cat
and
Elizabeth Hyenga
(vibrational and bioenergetic balancing), Annelie began to blossom. Her chronic renal failure improved, although sadly her fear of ceiling fans did not and some days we "cooked" as we worked…LOL Life was good, or so we thought….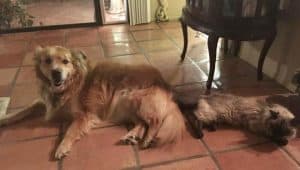 Just days before her death Annelie began to eat a little less and became a little more reclusive although as loving as ever. New girl Rosie stepped in to be by Annelie's side all the way to the end. So precious to see them together.
And then, Annelie stopped–everything. Before we knew it, she was gone.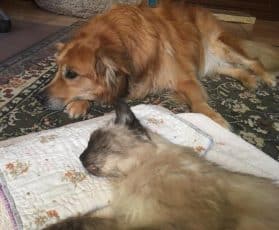 We checked blood-work two days before her death and discovered she had gone into complete kidney failure so we know there was nothing more we could have done. We know we must accept that it was her time to move on but still wish that she could have stayed even a little longer……
The way our dear one died is how we would all wish our deaths to be. A process so gentle and easy that it was not obvious and when the time came–it was as simple as sleeping her way into transition to the great beyond.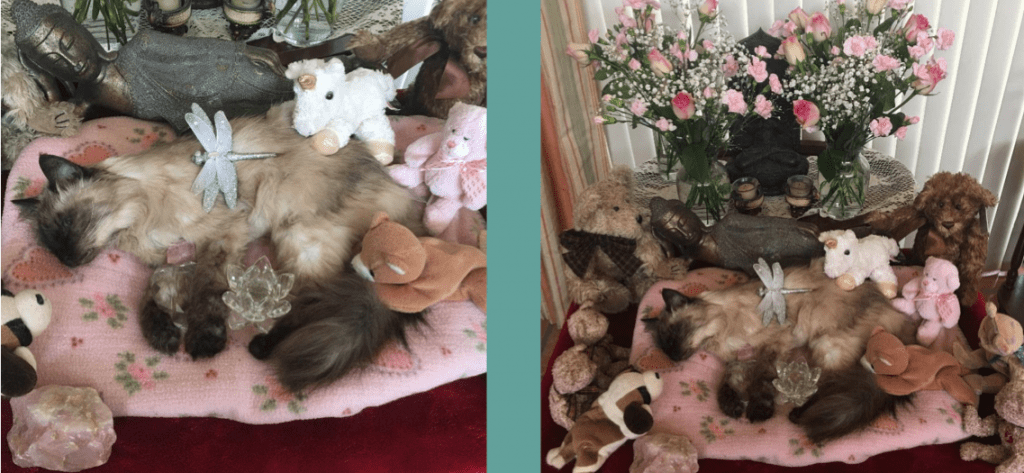 Annelie lay in state as so many before her, draped in a Buddhist prayer shawl, watched over by a dragonfly for transformation and light and adorned with a rose quartz necklace and with rose quartz crystals.
Of course Annelie also had the BrightHaven teddy bear brigade to watch over her, the magical power of the unicorn and other mementos of her life. Her flowers were a beautiful mix of pink roses and carnations to match her equally beautiful self.
Annelie now treads the path to the afterlife where I know she's being greeted by the many who have passed before her. We also have it on reliable authority that she now has her claws back again and is prancing happily with feet and body that are whole again!
Please join me in sending love, Reiki and prayers for Annelie's journey onwards.
Fare-thee-well sweet one. Our hearts go with you!"