I often feel uncomfortable when I hear that an animal or person has been given a specific number of days, weeks or years to live when they receive a terminal diagnosis. When it comes right down to it, who actually knows? None of us has an expiry date stamped in ink across our forehead!
Of course it's normal and natural to ask the vet how much time your beloved animal has left. And I understand that this information is often given with the best of intentions: to help the patient and caregiver prepare for dying: physically, emotionally and spiritually.
However, I think it's important to remember that the reply is essentially an estimate based in large part on scientific texts and generalities. Every being is different, with a unique set of characteristics including genetics, health regimen and living situation.  
Being told this number can send people into a panic, where they do their best to get everything done they deem necessary while that approaching date is looming large over each and every moment. Everything becomes all about dying as people unconsciously lose sight of what's truly important—being present and sharing love.
One must be on the lookout for miracles and never accept a prediction as fact because, if you do, then that is what you will get. No one can know how long any being has to live—it is all guesswork and so each day must be treated as a gift. —Gail Pope, BrightHaven President & Founder
In other words, it's important to live each moment as fully as possible with a focus on quality of life, regardless of a specific quantity of time that's been voiced. Even if the time comes when quality of living shifts to quality of dying, the goal remains to live as fully as possible.
Living Fully Until Death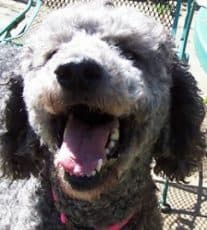 I clearly grasped that we're fully alive until we're dead during the life-changing journey I shared with my beloved dog Silver through her terminal diagnosis, animal hospice and gentle, natural death.
A few nights before Silver died, I was lying next to her on the bed and nervously thought, "I'm lying next to a dying dog." Then I realized, "No, I'm lying next to a living dog. She's still alive and must be treated accordingly." I felt more focused and relaxed. My goal remained for Silver to feel as balanced, comfortable and at peace as possible, and surrounded by love, honor and respect.
You can read more about our experience in my book Walking With My Dog Through (End of) Life, available on Amazon, which also shows how BrightHaven's animal hospice principles and holistic approach greatly helped Silver and me find our way.
What You Can Do After a Terminal Diagnosis
There's no two ways about it—receiving a terminal diagnosis for a loved one, animal or human, is a very challenging and stressful time.
Here are some suggested things you can do after a terminal diagnosis that may help you to make the best possible decisions for your beloved animal companion:
Delay making any major decision (such as euthanasia) in the heat of an emotionally charged moment if at all possible—great advice from Gail that really helped me.
Consider keeping a journal to track pertinent information such as physical and behavior observations, times of bodily functions, medications and supplement dosage amounts and times, etc. I used a binder to consolidate this information along with copies of lab reports and doctor notes.
Concentrate on what you can control, which includes how you respond to things. Manage your thoughts as much as possible.
Practice good self-care so you're available for both your animal and you.
Listen to and follow your gut instincts.
Surround yourself with supportive people.
Know that you're doing the very best you can.
Focus on what's best for your animal; be aware and cautious that you don't make decisions based on your own fears.
Since balance of body, mind and spirit is important to living as fully as possibly, check out the BrightHaven Menu for Healing to see the tools we use to optimize wellbeing at every life stage.
As we often say here at BrightHaven, it's all about living well, in an optimal state of balance, through the last breath! The animals have shown us that living life to the fullest with love in our hearts is what really matters most each and every day.
BrightHaven Resources to Help Your Animal Live Well Through the Last Breath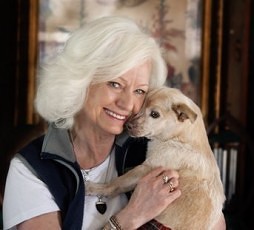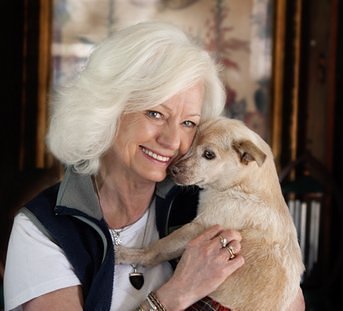 Do you have questions about how BrightHaven's holistic healing or animal hospice care approaches can help your animal? Book a consultation with Gail by sending an email to consultations@brighthaven.org.
The BrightHaven Guide to Animal Hospice—learn how to care for your animal companions in their Golden Years and through the end of life. (Author: Gail Pope)
Soar My Butterfly: The Animal Dying Experience—a simple guide to the signs and symptoms you may encounter during the final stages of the natural dying process. (Author: Gail Pope)
The BrightHaven Guide to Animal Hospice Online Series—BrightHaven Co-Founders Gail and Richard Pope share what they've learned since 1990 about holistic healing, living well and dying well by following the wisdom of the animals.

COMING SOON!!!

Gail's latest book, Follow Your Heart: Navigating a Terminal Diagnosis, will help you walk this often-challenging path with a deeper sense of peace, confidence and clarity. *** NOW AVAILABLE ON AMAZON at https://amzn.to/2YxnXCz ***