In March 2017, Adam Clark, LCSW, AASW, interviewed BrightHaven President and Founder Gail Pope for a Psychology Today article about animal hospice and natural death.  
This information remains very relevant to those who are seeking an alternative to euthanasia for their beloved animal family member.
As you can see from our animal hospice guiding statement, although BrightHaven's primary focus is on preparing for and achieving a natural death, we are certainly not opposed to euthanasia:
At BrightHaven, when an animal enters hospice care our expectation is that the animal will have a painless, loving, peaceful journey followed by a painless, loving, peaceful & natural death.
 If a place is reached during that journey where the caregiver, the veterinarian AND the animal believe the animal to be in need of critical assistance, then euthanasia will be used.
We also believe that every animal caregiver should have as much information as possible to help them make the best choices for their animal and unique situation. We've listed a few of our resources below that will help you find your way.
Please note: BrightHaven's Education and Rescue programs are active and expanding; the BrightHaven sanctuary mentioned in the article closed in January 2018.
BrightHaven Resources to Help Your Animal Live Well Each and Every Day!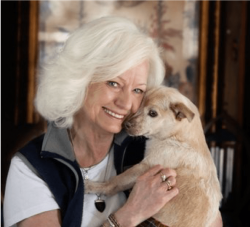 LATEST COURSE! BrightHaven Holistic Animal Hospice: Fundamentals
Walking with My Dog Through (End of) Life – an intimate look at a profound life passage, from terminal diagnosis through hospice care and natural death. (Author: Carol Howe Hulse, BrightHaven Education Program Specialist)