One of the many things that this shared COVID19 experience has brought front and center is the omnipresent impermanence of everything, including life itself. 
That's why setting the intention to live fully each and every day is so important, and animals can definitely show us how!
The importance of Joy & Play
I've been reading a fabulous book called Animal Wisdom: Learning from the Spiritual Lives of Animals, written by Linda Bender, DVM. This particular paragraph highlighted for me a fundamental difference between how animals and humans experience life: "Animals encounter plenty of adversity and often have even less power than humans have over conditions that threaten them or cause them pain. Like we do, they feel grief, anger, and fear. Nevertheless, they experience the world as fundamentally good, and their existence in it as basically happy. Joy is their default emotion, the constant sun behind every passing cloud."
Animals also enjoy play for the sake of nothing more than having fun! I love to watch my dog and one of his canine buddies chase each other in a spontaneous and friendly game of tug-of-war over a mutually desired toy. Their delight is authentic and palpable – and contagious!
I think the innate joyfulness and playfulness that animals possess is a natural component of their effortless ability to live in the present moment.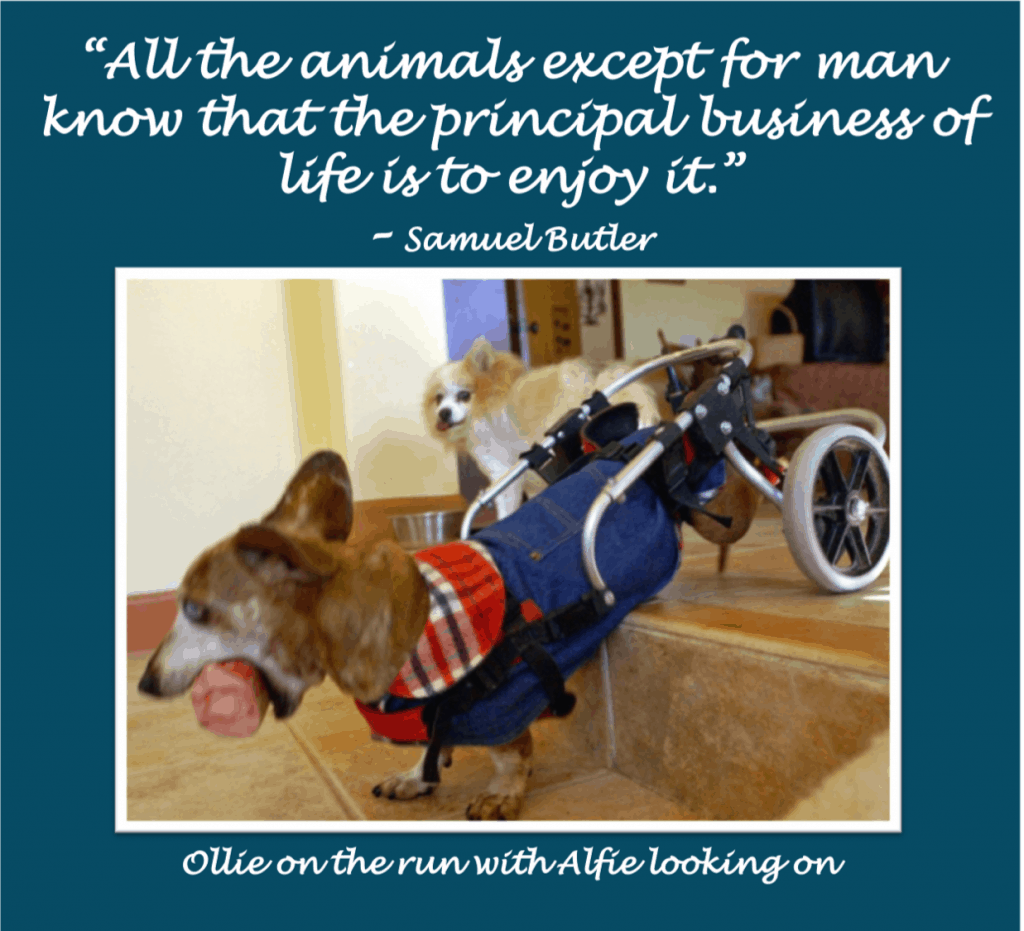 Be Present, Live Fully
Being present allows each of us to be fully available to experience what's happening in front of us regardless of what is unfolding, thereby deepening the richness of life. I have found that when I'm fully present, the concept of time, including having "enough" of it, fades to the background. Life feels more spacious – and fully alive.  
For me, being present is an ongoing pursuit and challenge. However, I have found that it's an integral part of living well, no matter what is going on with me or my human and animal loved ones. Animal Reiki and other forms of meditation, walking with my dog while enjoying the beauty and bounty of Mother Nature and reminding myself to take a step back and breathe are a few of the key tools I use to return to the present, again and again and again.
I don't think it actually matters the method one uses to practice mindfulness and living in the moment. What's most important is that one chooses to make being present a priority in life. It's not easy but well worth the effort!  

Be True to You – Authentic Living 
As I wrote in So Grateful for Animals Each & Every Day!, one of the qualities I admire most in animals is their authenticity. Animals are true to themselves. They are who they are – unapologetically. I doubt they scare themselves with limiting thoughts fears of failure, looking silly, disappointing others, being wrong, incompetence and falling short of perfection! 
Animals live in the present and express what they're feeling in the moment. From my experience, animals age and adjust. They get sick and adjust. They accept death as a part of Nature's circle of life.
After my beloved husband Martin died in June 2006, one of my biggest and most life-changing realizations was that death is definitely not the most terrifying, dreadful thing that can happen. I had been so afraid of dying that I wasn't fully alive; this restrictive fear surreptitiously lurked in the background of my life. I came to understand that living a pale, false and unfulfilling life had become much more chilling to me than death.
And I think animals are the perfect teachers to show us how live life fully and authentically!
BrightHaven Resources to Help Your Animal Live Well Each and Every Day!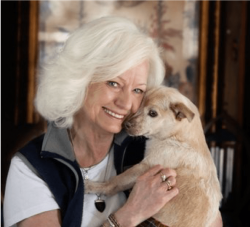 Walking with My Dog Through (End of) Life – an intimate look at a profound life passage, from terminal diagnosis through hospice care and natural death. (Author: Carol Howe Hulse, BrightHaven Education Program Specialist)