As all of us animal lovers know, being told by the vet that our beloved's illness is terminal is one of the most difficult things to hear. What do I do now? How can I best support my animal friend? What is the best way forward for our family?
These are just a few of the many challenging questions that a terminal diagnosis raises.
BrightHaven is a leader in the emerging field of animal hospice and palliative care AND we're also renowned for our holistic healthcare; we've combined these two specialties in our latest online course:
BrightHaven Holistic Animal Hospice: Navigating a Terminal Diagnosis
***Open to all animal lovers***
In our new new online course, BrightHaven President and Founder Gail Pope and Education Program Specialist Carol Hulse hold your hand and help you to navigate this path with a deeper sense of peace, confidence and clarity by: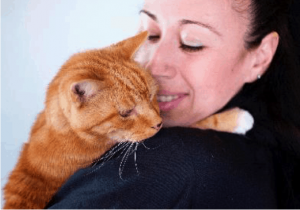 Understanding the wake-up call
Looking at the importance of self-care for the caregiver in this journey
Providing you with tools to navigate the visit to the vet's office and the aftermath of a terminal diagnosis, which can also be applied to any serious illness diagnosis
Exploring topics that are important for you to consider as you find and plan your way forward, including pain and suffering, quality of life, will to live and quality for dying
Sharing additional useful information that will help you and your family make and implement the best decisions for your beloved animal and unique situation
Walking through the various types of grief
Finishing off the presentation with a summary of key concepts and helpful resources
We've also included a quiz to enhance your learning experience.
After you take the course:
You will appreciate the importance of self-care for you, the caregiver, and how it helps your animal.
You will learn ways to promote your animal's healing – defined as an optimal balance of body, mind and spirit – regardless of the circumstances.
You will have a deeper awareness of the grieving process.
You will better understand what death is and what it is not. You may even come away with a deeper acceptance of death, which may help you to live more fully!
You will be empowered to make and implement informed, conscious decisions regarding your animal's health and wellbeing, and plan a way forward that fits your unique situation following a terminal diagnosis. When choices are made with awareness, the possibility for future regret is greatly reduced!
And here are two different ways you can add this unique and useful information to your animal care library:
Purchase the course and have unlimited access: https://www.holisticactions.com/ntd-course-registration/?aff=gailpope/
Join the Holistic Actions! Pet Health Academy – you'll have access to our course during your paid monthly membership: https://holisticactions.com/membership/?aff=gailpope
We're thrilled to have partnered again with Holistic Actions! to make this course available in an online, self-paced format. As you may already know, Holistic Actions! was founded by Drs. Jeff Feinman and Christina Chambreau, who are licensed veterinarians, certified veterinary homeopaths and longtime BrightHaven friends and volunteer vets. I'm also a proud member of the Holistic Actions! faculty!
Testimonials for BrightHaven's Work
"I want to acknowledge the incredible work, dedication and love you, Richard and all involved, have given through your years of endless care to help animals heal and find a meaningful life. There is nothing greater in my mind and heart than to provide a legacy of healing. Thanks for making the world a kinder and better place." –Jethren P.
"I am unable by gesture or through the limits of the written word, to communicate what you and the BrightHaven philosophy mean to me. I thank you for the introduction to living without fear. Praise God." –Jay B.
"Hope and fear cannot occupy the same space. Invite one to stay." –Maya Angelou